Ukrainian Uprising Takes Violent Turn as Police Attack Protest Camp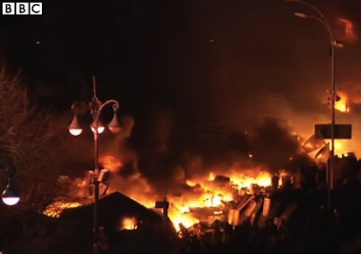 The volatile situation in Ukraine once again erupted into violence Tuesday, after police forces loyal to the country's embattled President Viktor Yanukovych surrounded and stormed an opposition encampment in Kiev's Independence Square.
The BBC brought news of the day's events that evening:
During the day, at least 13 people were killed, including six policemen, as protesters and security forces clashed in the worst violence in weeks.

[…] Protest leaders had insisted they would not retreat, though warned that they could not "exclude the possibility" of the authorities using force.

Then shortly before 18:00 GMT, police announced over loudspeakers that they were about to begin "an anti-terror operation".

They began advancing with an armoured vehicle, dismantling barricades and fired stun grenades and water cannon.

Protesters lit fires and threw fireworks and Molotov cocktails. Many tents have been burned.
Reactions from world leaders have ranged from holding Western influences partly accountable (Russia) to alarm (various) to stern calls for the Ukrainian government to "de-escalate immediately" (the White House). Meanwhile, opposition leaders like boxer-turned-politician Vitaly Klitschko vowed to stand their ground.
–Posted by Kasia Anderson