Truthdiggers
Nominate Truthdigger
May 26, 2014
Truthdigger of the Week: Francisco 'Papas Fritas' Tapia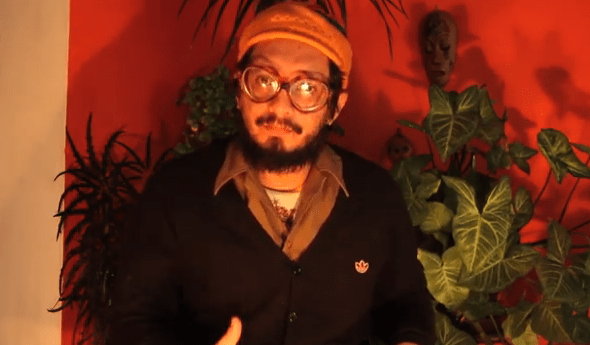 Every week the Truthdig editorial staff selects a Truthdigger of the Week, a group or person worthy of recognition for speaking truth to power, breaking the story or blowing the whistle. It is not a lifetime achievement award. Rather, we're looking for newsmakers whose actions in a given week are worth celebrating.
The crippling effect of debt is clearer today than it has been perhaps at any other moment in the past 30 years. To the optimistic — and all Americans are encouraged to be optimistic — there is little to question about the premise. I'll give you money today to buy that house, change of clothes or college degree you want, or rather, need. You can go to school or work and begin making money. Then, six months from now, maybe a year, or more, you can pay me what I loaned you, with a little extra added on as a token of gratitude. It sounds so generous.
The trick, of course, is that the borrower's ability to repay what was loaned is never guaranteed. A host of problems can arise to interfere with the plan. Maybe the degree doesn't lead to a job with a sufficient income, or maybe the job isn't there. These outcomes are pervasive, but that hasn't prompted society's architects to alter the way people who have no money go about getting it.
Tired of waiting around, Chilean artist and activist Francisco Tapia, who goes by the name "Papas Fritas," meaning "french fries," seized official documents originating what he said was up to $500 million in debt taken on by students of Chile's now-defunct Universidad del Mar. Amid investigations prompted in part by protests begun in 2011 against for-profit education schemes, government authorities last year closed the university on charges of money laundering. The shutdown stripped away accreditations and left "thousands of students with half a diploma," as well as the obligation to pay the balance of their outstanding debt.
Appalled by what press accounts said was being done to the students, Tapia, 31, entered the offices where the debt papers were kept during a student-led occupation of the campus. He then spent months reading the documents, at times devoting an entire day to understanding the financial situation of a single student, and burned them bit by bit. He intended to liberate the students from financial bondage. A video posted on YouTube announced the act.
"It's over. You are free from debt. You don't have to pay one more cent," Tapia told viewers May 12. Speaking in Spanish, he connected what he did to the broad, spiritual struggle for social well-being against the unnecessary economic neglect and ruin of human beings. "This is the artwork. This is the project, simply. This is a small project. If we all had the ability to continue doing things for love, for solidarity, we will find each other again. But we have to lose the fear, the fear of the idea about criminality that this state has wanted to impose on us, that we are criminals for being poor, for wanting our rights to be met."
Tapia displayed the ashes of the documents in an open window of a Volkswagen van that was exhibited on the streets of Santiago and Valparaiso.
As The Guardian reports, "lawyers say that Tapia's destruction of the files does not technically rescind the debt, but it does make it extremely difficult to prove the debt exists. Only by formally testifying in court and acknowledging the debt would students now be forced to pay, said Mauricio Daza, a lawyer." Former students of the university celebrated the protest. Describing its meaning in the context of the wider struggle of students, Raul Soto, one of their spokesmen, said: "This is spectacular; this is the only victory we have had in economic terms. … This gives us the peace of mind that we are not going to still be in debt to Universidad del Mar."
With four student leaders elected to Chilean parliament and newly elected President Michelle Bachelet proposing to end state subsidies to for-profit universities and schools and potentially back calls for free university education of all, students and their supporters hope they have more to celebrate in the near future.
Student debt in the United States exceeded $1 trillion in recent years, a sum greater than the combined credit card debt of all Americans. Numerous economists and campaigners have pointed out that living under a cloud of debt from the beginning of one's professional life onward stunts development by stifling creativity and making borrowers cautious. They describe debt as a way of killing the imaginations of the next generation. The situation may get so bad that students, their families and their friends may rise in America as they have in Chile over the last three years and compel lawmakers to rid them of the debt burden. In the meantime, it's up to fed-up people like Francisco Tapia to remind us of the virtue of principled anger. We honor him as our Truthdigger of the Week.
Wait, before you go…
If you're reading this, you probably already know that non-profit, independent journalism is under threat worldwide. Independent news sites are overshadowed by larger heavily funded mainstream media that inundate us with hype and noise that barely scratch the surface.  We believe that our readers deserve to know the full story. Truthdig writers bravely dig beneath the headlines to give you thought-provoking, investigative reporting and analysis that tells you what's really happening and who's rolling up their sleeves to do something about it.
Like you, we believe a well-informed public that doesn't have blind faith in the status quo can help change the world. Your contribution of as little as $5 monthly or $35 annually will make you a groundbreaking member and lays the foundation of our work.
Support Truthdig