Truthdiggers
Nominate Truthdigger
Jan 14, 2017
Truthdigger of the Week: Cornel West, Social Philosopher and Obama Critic
"The reign of Obama did not produce the nightmare of Donald Trump—but it did contribute to it," West tells us.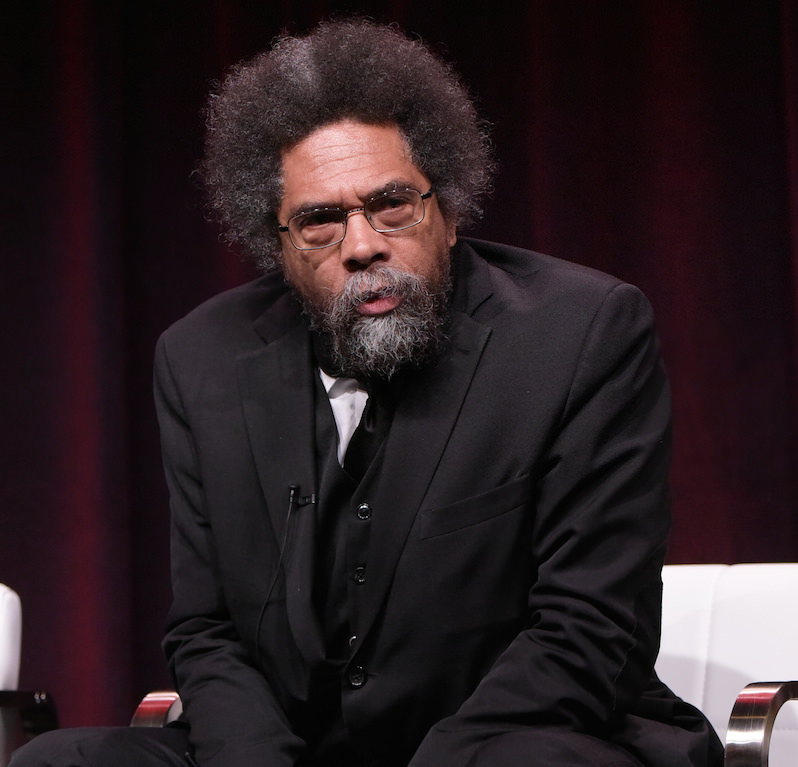 Barack Obama was supposed to make America great again. As a college student eight years ago, I was skeptical that he would. I read Ken Silverstein's 2006 Harper's Magazine profile, "Barack Obama Inc.: The Birth of a Washington Machine," and knew that Obama was the lone senator to speak at the 2006 launch of The Hamilton Project, a think tank founded by Clinton-era financial deregulators, many of whom would follow Obama into White House. The briefest analysis of his record contradicted the image that won him the title of Ad Age's 2008 "Marketer of the Year."
But that didn't stop me from racing to downtown Bellingham, Wash., on election night following a shift spent serving booze and steaks to a crowd of white, depressed and aging country club members. In the streets, I joined hundreds of my peers in an impromptu celebration of the election of our generation's "Change" candidate. (See video here.) We knew the damage George W. Bush did to us. In the time that followed, many of us referred to election night as the "night of hope."
Eight years later, the United States will again be led by an open opponent of liberalism. What happened? "The reign of Obama did not produce the nightmare of Donald Trump—but it did contribute to it," the social philosopher Cornel West wrote in The Guardian last week. Political analyst Thomas Frank was less forgiving in a column published the morning of Nov. 9: "Donald Trump is moving to the White House, and liberals put him there."
Many liberals balk at the charge that their leader had anything to do with the triumph of Trumpism. "Obama didn't want Trump," one told me recently. Sure, but desire alone doesn't decide political outcomes; the dynamics of social and material reality do. And Obama is chiefly responsible for the present reality in which at least 20 million Americans have health insurance at the expense of their fellow citizens, many of whom still struggle under the burden of the Great Recession (a policy favored by insurance companies and among many possible funding options). Our Democratic president enabled the Republican leadership to attack him credibly in the eyes of these taxpayers and other Americans.
Obama afforded other opportunities for Americans to abandon his party. And they did, including political independents, the working class and the spirited left. West provides an accounting.
"A few of us begged and pleaded with Obama to break with the Wall Street priorities and bail out Main Street," West wrote in The Guardian. "But he followed the advice of his 'smart' neoliberal advisers to bail out Wall Street. In March 2009, Obama met with Wall Street leaders. He proclaimed: I stand between you and the pitchforks. I am on your side and I will protect you, he promised them. And not one Wall Street criminal executive went to jail."
"We called for the accountability of U.S. torturers of innocent Muslims and the transparency of U.S. drone strikes killing innocent civilians. Obama's administration told us no civilians had been killed. And then we were told a few had been killed. And then told maybe 65 or so had been killed. Yet when an American civilian, Warren Weinstein, was killed in 2015 there was an immediate press conference with deep apologies and financial compensation. And today we still don't know how many have had their lives taken away."
"We hit the streets again with Black Lives Matter and other groups and went to jail for protesting against police killing black youth. We protested when the Israeli Defense Forces killed more than 2,000 Palestinians (including 550 children) in 50 days. Yet Obama replied with words about the difficult plight of police officers, department investigations (with no police going to jail) and the additional $225 million in financial support of the Israeli army. Obama said not a mumbling word about the dead Palestinian children but he did call Baltimore black youth 'criminals and thugs'."
"In addition, Obama's education policy unleashed more market forces that closed hundreds of public schools for charter ones. The top 1% got nearly two-thirds of the income growth in eight years even as child poverty, especially black child poverty, remained astronomical. Labor insurgencies in Wisconsin, Seattle and Chicago (vigorously opposed by Mayor Rahm Emanuel, a close confidant of Obama) were passed over in silence."
"In 2009, Obama called New York City mayor Michael Bloomberg an 'outstanding mayor.' Yet he overlooked the fact that more than 4 million people were stopped-and-frisked under Bloomberg's watch. Along with Carl Dix and others, I sat in a jail two years later for protesting these very same policies that Obama ignored when praising Bloomberg."
The list goes on, including the rending of the families of nearly 2.5 million deported immigrants — more than those deported by any other president; the commitment of Justice Department resources to an historic campaign of prosecution against journalists and whistleblowers following an explicit campaign promise to do the opposite; and the investment of nearly $34 billion in human habitat-destroying fossil fuel infrastructure around the world. During these years, Democrats lost 900 seats in state legislatures, 12 governorships, 69 seats in the House of Representatives and 13 seats in the Senate.
Obama didn't do it alone. "[T]he mainstream media and academia failed to highlight these painful truths linked to Obama," West wrote. "Instead, most well-paid pundits on TV and radio celebrated the Obama brand. And most black spokespeople shamelessly defended Obama's silences and crimes in the name of racial symbolism and their own careerism. How hypocritical to see them now speak truth to white power when most went mute in the face of black power. Their moral authority is weak and their newfound militancy is shallow."
West's words sting, but if Americans are to heal the wounds they record, we must hear and heed them. Cornel West is our Truthdigger of the Week.
Wait, before you go…
If you're reading this, you probably already know that non-profit, independent journalism is under threat worldwide. Independent news sites are overshadowed by larger heavily funded mainstream media that inundate us with hype and noise that barely scratch the surface. We believe that our readers deserve to know the full story. Truthdig writers bravely dig beneath the headlines to give you thought-provoking, investigative reporting and analysis that tells you what's really happening and who's rolling up their sleeves to do something about it.
Like you, we believe a well-informed public that doesn't have blind faith in the status quo can help change the world. Your contribution of as little as $5 monthly or $35 annually will make you a groundbreaking member and lays the foundation of our work.
Support Truthdig