May 14, 2019
Truthdig Nominated for 12 SoCal Journalism Awards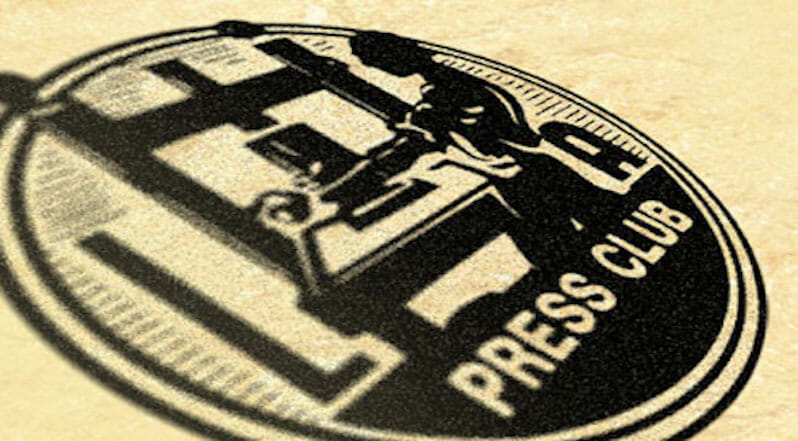 On Tuesday, Los Angeles Press Club unveiled its list of finalists for the 61st Annual SoCal Journalism Awards, a contest that received more than 1,700 entries. Truthdig earned 12 nominations, including for best website belonging to a news organization exclusive to the Internet (Publisher Zuade Kaufman and Editor in Chief Robert Scheer).
"This year, more journalists entered the SoCal contest than ever before, breaking old records and setting new, higher standards!" read a message on the Los Angeles Press Club website.
Truthdig's Ear to the Ground section, which features work by Ilana Novick, Jacob Sugarman and Gregory Glover, was nominated in the best blog category. Maj. Danny Sjursen, whose American History for Truthdiggers series and policy columns appear regularly on Truthdig, was nominated for best columnist. Mr. Fish's artful, hard-hitting cartoons also received a collective mention in the editorial cartoon category.
Other Truthdig nominees include Chris Hedges for his searing meditation on modern capitalism, "The 'Gig Economy' Is the New Term for Serfdom" and economic and banking expert Ellen Brown for her column "Banks Are Becoming Obsolete in China—Could the U.S. Be Next?" Eunice Wong, editor of Truthdig's book review section, landed a nomination for her own review of "The Woo-Woo: How I Survived Ice Hockey, Drug Raids, Demons, and My Crazy Chinese Family," which was surely one of the more memorable book titles of the year as well. Truthdig photojournalist Michael Nigro's impactful photo essay "The Border in Black and White," captured during a December trip to the U.S.-Mexico border, also received a nomination, as did Bill Blum's dire warning about the legal implications of the Department of Justice's accusations against the founder of WikiLeaks, "The Dangerous Rush to Judgment Against Julian Assange."
Truthdig's Managing Editor Jacob Sugarman figures among the finalists for his original reporting in "'The G-20 Is Death,' and Other Lessons in Global Capitalism," as does Assistant Editor Natasha Hakimi Zapata for two separate pieces, "The Late, Great Ursula K. Le Guin" and "Conservatives Own the Ongoing Disaster That Is Brexit."
The winners will be announced June 30 at the Millennium Biltmore Hotel in downtown Los Angeles.
Wait, before you go…
If you're reading this, you probably already know that non-profit, independent journalism is under threat worldwide. Independent news sites are overshadowed by larger heavily funded mainstream media that inundate us with hype and noise that barely scratch the surface.  We believe that our readers deserve to know the full story. Truthdig writers bravely dig beneath the headlines to give you thought-provoking, investigative reporting and analysis that tells you what's really happening and who's rolling up their sleeves to do something about it.
Like you, we believe a well-informed public that doesn't have blind faith in the status quo can help change the world. Your contribution of as little as $5 monthly or $35 annually will make you a groundbreaking member and lays the foundation of our work.
Support Truthdig