Proposed Rules: You Lose, Poultry Industry Wins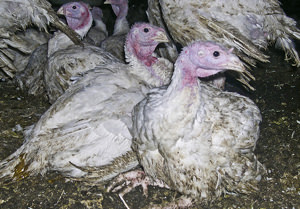 And you thought pink slime was bad: The Obama administration is proposing to fire USDA inspectors and let the poultry industry inspect its own slaughterhouse lines—while simultaneously speeding up the kill line.
The USDA says the new rules would save taxpayer money, as much as $95 million over three years via the elimination of 800 inspector positions. Meanwhile, the poultry industry would save something like a quarter of a billion dollars by ramping up the kill line, all while supposedly improving the safety of the food it produces.
If you have any reservations about that last claim, confirm your fears by reading on below, especially the last paragraph. But do it within reach of a trash can. The public has until April 26 to comment on the program, which could be implemented as soon as October. –ARK
Mother Jones:

But Food & Water Watch's investigation of the USDA's longtime pilot program to test the new procedures casts serious doubt on the food safety claim. Using the Freedom of Information Act, FWW obtained inspection documents from slaughterhouses in the pilot program for the first eight months of 2011. The reports relate to the 20 to 80 randomly selected birds the USDA inspectors looked at during each shift to check up on company-hired inspectors. The results, from FWW's summary, make pink slime look downright appetizing:

Company employees miss many defects in poultry carcasses. The inspection category that had the highest error rate was 'Other Consumer Protection 4' for dressing defects such as feathers, lungs, oil glands, trachea and bile still on the carcass. The average error rate for this category in the chicken slaughter facilities was 64 percent and 87 percent in turkey slaughter facilities. In one turkey slaughter facility, nearly 100 percent of samples found this category of defect.

In the period from March to August 2011, 90 percent of the defects found by the USDA inspectors involved "visible fecal contamination that was missed by company employees." One inspector's report contained this unsettling anecdote:

I observed a section of intestine wrapped around the rotating paddles in the neck chiller. The intestine was approximately 1 1/2 feet in length, contained fecal material. Additionally, numerous other pieces [of] digestive tract materials, such as chicken crops and esophagus were also observed in the neck chiller…This regulatory noncompliance would potentially allow for the cross contamination of necks by digestive contents material such as ingesta and/or feces.