Ear to the Ground
Jun 4, 2009
New Hampshire Legalizes Gay Marriage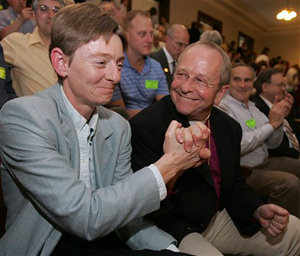 The Granite State's Republican governor opposes gay marriage, but he cut a deal with the Legislature and signed off on three bills that made New Hampshire the sixth state (wishy-washy California not among them) to grant same-sex couples their marital rights. Six down, 44 to go.
Gov. John Lynch got legislators to write in exemptions for religious groups. Essentially, gays can get married as long as churches are not forced to officiate.
The winning vote came at the last possible moment in the legislative calendar.
The other five states to recognize gay marriage are Massachusetts, Connecticut, Maine, Vermont and Iowa. Plus Canada, if you're feeling cheeky.
AP via Google:

Gov. John Lynch was surrounded by cheering supporters of the move as he signed the three bills about an hour after the key vote on the legislation in the House.

The law will take effect in January, exactly two years after the state legalized civil unions. New Hampshire joins Massachusetts, Connecticut, Maine, Vermont and Iowa in recognizing same-sex marriages, though opponents hope to overturn Maine's law with a public vote.
Wait, before you go…
If you're reading this, you probably already know that non-profit, independent journalism is under threat worldwide. Independent news sites are overshadowed by larger heavily funded mainstream media that inundate us with hype and noise that barely scratch the surface.  We believe that our readers deserve to know the full story. Truthdig writers bravely dig beneath the headlines to give you thought-provoking, investigative reporting and analysis that tells you what's really happening and who's rolling up their sleeves to do something about it.
Like you, we believe a well-informed public that doesn't have blind faith in the status quo can help change the world. Your contribution of as little as $5 monthly or $35 annually will make you a groundbreaking member and lays the foundation of our work.
Support Truthdig