Jan 25, 2013
Kerry Calls Out Johnson, Zuckerberg Plans Christie Fundraiser, and More
A look at the day's political happenings, including President Obama naming a new SEC head and Joe Biden dispensing some interesting earthquake advice during a Google+ "Fireside Hangout."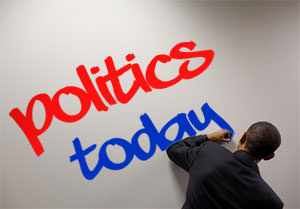 Filibuster Fail:
Senate Majority Leader Harry Reid and Senate Minority Leader Mitch McConnell have struck a deal on filibuster reform—if you can even call the proposal that. The agreement reached between the two will result in a few minor changes to the filibuster laws that hardly qualify as reform. But perhaps more important, they still don't require that senators speak on the floor in order to filibuster. As one pro-reform Democratic aide put it, "After these small changes, the Senate will operate much the same way as it did yesterday." (Read more)
Go Public: Sen. Dianne Feinstein reintroduced the assault weapons ban in the Senate on Thursday, calling on Americans to help push it through. Feinstein's legislation would bar more than 150 types of assault weapons and some high-capacity gun magazines. In introducing the gun control measure, Feinstein acknowledged that she faced an uphill battle to get it passed in Congress. According to the senator, that's where the public comes in. "There is one great hope out there and that is you. Because you are stronger than the gun lobby. You are stronger than gun manufacturers. … Only if you stand up, if America rises up, if people care enough to call every member of the House and every member of the Senate and say, 'We have had enough,' " she said. (Read more)
Friending Christie: Mark Zuckerberg is treading into political territory. The Facebook founder and CEO and his wife Priscilla Chan will host a campaign fundraiser for New Jersey Gov. Chris Christie at their home, a first for the couple. Zuckerberg does have some connection to New Jersey politics: He once donated $100 million to the Newark school system after striking up a friendship with Mayor Cory Booker, a Democrat who at one time considered taking on Christie in the governor's race. Zuckerberg and Chan have also worked with Christie on education reform in Newark, a Facebook spokeswoman said. (Read more)
Disaster Drill: Vice President Joe Biden held his first ever Google+ "Fireside Hangout" on Thursday, during which he discussed the Obama administration's recent gun proposals and explained that they focused more on safety than control. He also gave this interesting temblor tip: "If you want to keep people away during an earthquake, buy some shotgun shells." According to the veep, that's because shotguns are more effective than assault weapons. "A shotgun would keep you a lot safer — a double barrel shotgun — than the assault weapon in somebody's hand who doesn't know how to use it, even one who does know how to use it," he said. "It's harder to use an assault weapon to hit something than it is a shotgun." (Read more)
No Bull From Market: President Obama named "tough-as-nails" prosecutor Mary Jo White to head the Securities and Exchange Commission on Thursday. In doing so, Obama said he was trying to send a message that the regulator would be strict with Wall Street. "You don't want to mess with Mary Jo," Obama said when he introduced her at the White House on Thursday. (Read more)
Video of the Day: During his confirmation hearing for secretary of state Thursday, John Kerry called out Sen. Ron Johnson—who, you might remember, got quite a lashing from Hillary Clinton for a line of questioning regarding the September terrorist attack in Benghazi, Libya, during a hearing Wednesday—for not attending a meeting regarding the incident. All in all, it seems this hasn't been Johnson's best week.
Wait, before you go…
If you're reading this, you probably already know that non-profit, independent journalism is under threat worldwide. Independent news sites are overshadowed by larger heavily funded mainstream media that inundate us with hype and noise that barely scratch the surface. We believe that our readers deserve to know the full story. Truthdig writers bravely dig beneath the headlines to give you thought-provoking, investigative reporting and analysis that tells you what's really happening and who's rolling up their sleeves to do something about it.
Like you, we believe a well-informed public that doesn't have blind faith in the status quo can help change the world. Your contribution of as little as $5 monthly or $35 annually will make you a groundbreaking member and lays the foundation of our work.
Support Truthdig