Ear to the Ground
Aug 18, 2009
Hillary Aims for the Global Glass Ceiling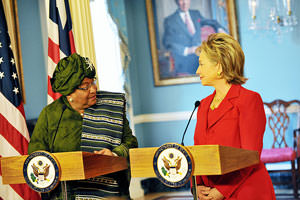 Hillary Clinton's presidential run thrived on her appeal to women. Now the secretary of state wants to give something back to the finer sex — and not just in America. Women's rights will top her agenda everywhere she goes, and, in order to elevate them, everywhere she goes she'll meet with women who "may not even be known by their own leaders," she explains to The Washington Post.
She's really something, that Hillary. Hey, if you like it, then you shoulda put some votes on it. — PS
Washington Post:

But her efforts go beyond the marble halls of government and show how she is redefining the role of secretary of state. Her trips are packed with town hall meetings and visits to micro-credit projects and women's dinners. Ever the politician, she is using her star power to boost women who could be her allies.

"It's just a constant effort to elevate people who, in their societies, may not even be known by their own leaders," Clinton said in an interview. "My coming gives them a platform, which then gives us the chance to try and change the priorities of the governments."
Wait, before you go…
If you're reading this, you probably already know that non-profit, independent journalism is under threat worldwide. Independent news sites are overshadowed by larger heavily funded mainstream media that inundate us with hype and noise that barely scratch the surface.  We believe that our readers deserve to know the full story. Truthdig writers bravely dig beneath the headlines to give you thought-provoking, investigative reporting and analysis that tells you what's really happening and who's rolling up their sleeves to do something about it.
Like you, we believe a well-informed public that doesn't have blind faith in the status quo can help change the world. Your contribution of as little as $5 monthly or $35 annually will make you a groundbreaking member and lays the foundation of our work.
Support Truthdig