Ear to the Ground
Aug 12, 2010
Wolf Blitzer's Panic Room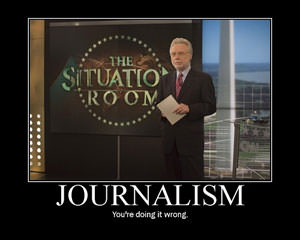 "The Situation Room" is a familiar venue for the kind of hysteria and nonsense that has become the hallmark of television news, so it comes as no surprise that host Wolf Blitzer and a cohort of CNN's loudest Chicken Littles have declared Social Security at "the final tipping point" and "broke" despite $2.5 trillion in reserves and a bright future.
Fairness and Accuracy In Reporting:

The August 5 reports from the Social Security and Medicare trustees declared Social Security's long-term financial outlook mostly unchanged from the previous year, and the projections for Medicare were greatly improved from previous forecasts. But on CNN's Situation Room, this news amounted to a crisis in Social Security and a threat to the country.

On the August 5 broadcast, host Wolf Blitzer announced: "Social Security reaches the final financial tipping point. The system is now paying out more than it's taking in. Will Washington do anything anytime soon to fix this problem?" Blitzer was referring to the fact that this year Social Security is paying out more in benefits than it receives in tax revenue–a mostly meaningless fact, given the system's $2.5 trillion long-term surplus (CEPR's Social Security Byte, 8/5/10). But Blitzer turned to a single guest, Beltway fixture and former presidential adviser David Gergen, to echo his alarmism.
Wait, before you go…
If you're reading this, you probably already know that non-profit, independent journalism is under threat worldwide. Independent news sites are overshadowed by larger heavily funded mainstream media that inundate us with hype and noise that barely scratch the surface.  We believe that our readers deserve to know the full story. Truthdig writers bravely dig beneath the headlines to give you thought-provoking, investigative reporting and analysis that tells you what's really happening and who's rolling up their sleeves to do something about it.
Like you, we believe a well-informed public that doesn't have blind faith in the status quo can help change the world. Your contribution of as little as $5 monthly or $35 annually will make you a groundbreaking member and lays the foundation of our work.
Support Truthdig