Nov 8, 2018
White House Smears CNN Reporter With Doctored Video
New footage produced by InfoWars and distributed by Sarah Huckabee Sanders distorts an incident between Jim Acosta and a White House aide.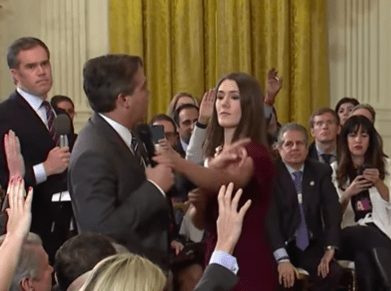 On Wednesday, mere hours after President Donald Trump forced Jeff Sessions out as attorney general, the White House revoked the press pass of CNN's Jim Acosta. The decision was confirmed by press secretary Sarah Huckabee Sanders, who wrote in a tweet that evening, "President Trump believes in a free press and expects and welcomes tough questions of him and his Administration. We will, however, never tolerate a reporter placing his hands on a young woman just trying to do her job as a White House intern. …"
By Thursday, Sanders had distributed a video of Acosta chopping at the arm of an aide. At first glance, the footage seems to capture the confrontation as it unfolded on live television, with the reporter resisting the woman's efforts to seize his microphone. But upon closer examination, a segment of the tape appears to have been doctored to make his action look more violent than it actually was. It also lacks audio of Acosta imploring the White House staffer, "Pardon me, ma'am."
1) Took @PressSec Sarah Sanders' video of briefing 2) Tinted red and made transparent over CSPAN video 3) Red motion is when they doctored video speed 4) Sped up to make Jim Acosta's motion look like a chop 5) I've edited video for 15+ years 6) The White House doctored it pic.twitter.com/q6arkYSx0V

— Rafael Shimunov ? (@rafaelshimunov) November 8, 2018
"Critics said that video—which sped up the movement of Acosta's arms in a way that dramatically changed the journalist's response—was deceptively edited to score political points," reports The Washington Post's Drew Harwell. "That edited video was first shared by Paul Joseph Watson, known for his conspiracy-theory videos on the far-right website Infowars."
The incident began when Acosta asked Trump if he thought that he had "demonized" an entire community by referring to the Honduran migrant caravan now crossing Mexico as an "invasion." The president responded dismissively, telling Acosta, "I think you should let me run the country, you run CNN, and if you did it well, your ratings would be much better." After repeatedly declaring "that's enough," Trump pointed at Acosta, calling him a "rude, terrible person" who "shouldn't be working" for the network.
"We know that manipulating images is manipulating truth. It's deceptive, dangerous and unethical," Whitney Shefte, president of the White House News Photographers Association, said in a statement. "Knowingly sharing manipulated images is equally problematic, particularly when the person sharing them is a representative of our country's highest office with vast influence over public opinion."
This is hardly the Trump administration's first run-in with Acosta. After a "Unite the Right" rally in Charlottesville, Va., left one dead last year, the correspondent inquired whether the president would be willing to further address the attacks. Trump dismissed him and CNN as "fake news." More recently, Acosta walked out during a White House press conference after Sanders refused to say whether the media constitute an enemy of the people—a claim the president has made on several occasions.
Acosta was not the only reporter Trump singled out for criticism on Wednesday. During the same press conference, the president took aim at PBS' Yamiche Alcindor, an African-American woman, who had asked him whether his identification as a "nationalist" might embolden white supremacists. "I don't know why you'd say that," Trump interrupted. "That is such a racist question."
How long the ban on Acosta will last remains unclear. But between the administration's attempt to smear a member of the White House press corps and Trump's apparent efforts to undermine the investigation of special prosecutor Robert Mueller, his presidency has taken a distinctly authoritarian turn since Tuesday's midterm elections.
Read more at The Washington Post.
Wait, before you go…
If you're reading this, you probably already know that non-profit, independent journalism is under threat worldwide. Independent news sites are overshadowed by larger heavily funded mainstream media that inundate us with hype and noise that barely scratch the surface. We believe that our readers deserve to know the full story. Truthdig writers bravely dig beneath the headlines to give you thought-provoking, investigative reporting and analysis that tells you what's really happening and who's rolling up their sleeves to do something about it.
Like you, we believe a well-informed public that doesn't have blind faith in the status quo can help change the world. Your contribution of as little as $5 monthly or $35 annually will make you a groundbreaking member and lays the foundation of our work.
Support Truthdig