Apr 3, 2018
Where Is the Outrage About Julian Assange's Silencing?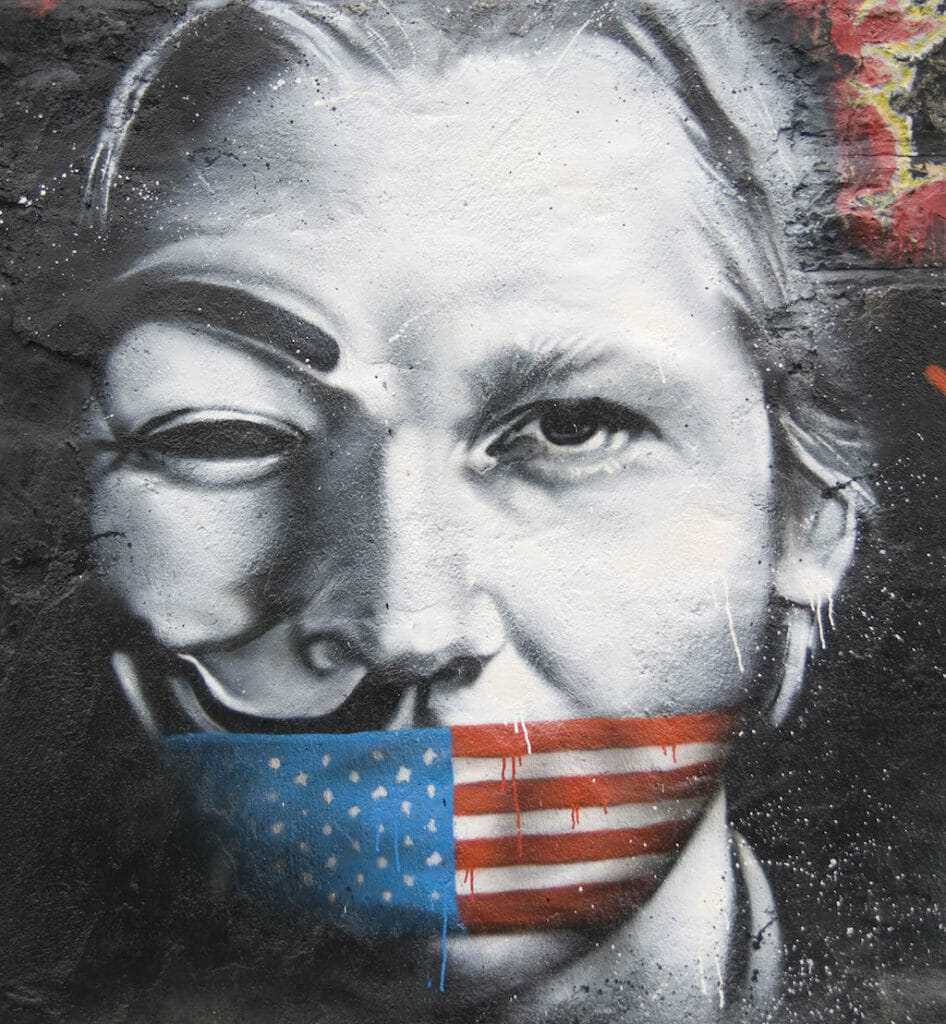 On October 12, 1969, Daniel Ellsberg copied a secret dossier with the intention of disclosing the truth about the Vietnam War. The Pentagon Papers were a chronicle of events that recorded the scope of operations in Vietnam and beyond—details which were being withheld from the American public. The Vietnam War was built on the foundation of lies; we were rushed into the war using the Gulf of Tonkin as a false flag and defending freedom as a pretext to further the interests of the defense-financial complex. The truth eventually caught up to the lies of politicians and bureaucrats; Defense Secretary Robert McNamara later admitted the Gulf of Tonkin attack never took place.
The Gulf of Tonkin set the stage for a decade of continuous half-truths and outright lies as the US government suppressed information from the citizenry and kept falsifying records. This coordinated campaign of governmental disinformation prolonged a war that led to the deaths of 58,200 Americans and snuffed the lives of over 2 million Vietnamese people. It was this pernicious operation of deceit—intent on keeping the public in the dark—that prodded Ellsberg to act. After presenting the findings of the Pentagon Papers to authorities in government only to be met with a wall of silence, he decided to inform the press. The firestorm of controversy that was created after The New York Times published the Pentagon Papers and the ensuing outcry from the public played a large part in bringing an end to the Vietnam War.
Daniel Ellsberg's decision to release the Pentagon Papers was an act of valor—his actions saved countless lives. He was a whistleblower who changed the course of history and curtailed an ongoing genocide which ended up preventing the needless dissolution of American soldiers and Vietnamese civilians alike. The publishing of the Pentagon Papers is a prime example of the critical part a free press plays in keeping governments in check and exposing the corrosive nature of consolidated power. This is why the First Amendment of the Bill of Rights enshrines the rights to free speech and of a free press in the United States Constitution.
Tyrants throughout history have targeted journalists and reporters for a reason. Napoleon Bonaparte, a savage dictator, once noted that four hostile newspapers are more to be feared than a thousand bayonets. He said this because he knew that journalists can awaken a slumbering public from sleep and rally them against repressive regimes. A free press is the last line of defense between liberty and despotism. The founders of our republic, in the hopes of preventing America from traveling down the path of authoritarianism, made the rights of a free press sacrosanct for this exact reason. Sadly, our nation is living proof that all revolutions eventually devolve to the very tyranny that gave birth to them.
Bureaucrats and elected officials in government learned the wrong lessons from the Pentagon Papers. Instead of being transparent and reducing corruption in governance, authorities decided to cloak themselves in darkness, methodically target whistleblowers for prosecution and intimidate journalists in order to prevent them from doing their jobs. All this is taking place in a backdrop where corporations have initiated a hostile takeover of government; by weaponizing their wealth, globalist oligarchs have effectively turned public servants and technocrats into their enforcers and security guards.
In an environment where billionaires like Jeff Bezos and Rupert Murdoch own more than 90 percent of the media content and the way it is disseminated to the public, reporters and journalists in corporate media have to be mindful of keeping their checks as much as they are fearful of getting a knock on the door from subpoena bearers. This systematic war against free press metastasized after the heinous attacks of 9/11; the US government—yet again using national security as a pretext—made it a priority to silence dissent within government and neutralize aggressive reporting against its excesses. As western powers piously preach about freedom and democracy throughout the globe, they are steadily dismantling both domestically.
On Wednesday afternoon, Julian Assange, who has been forced into self-imprisonment at the Ecuadorian embassy since 2012 to ward off prosecution from the United Kingdom and the United States, had his internet access cut off. Assange is our generation's Daniel Ellsberg; WikiLeaks—the online publication he started—has been invaluable in letting the public know about the malfeasance of their elected officials and highlighting the duplicity of governments throughout the world. In an era where mainstream journalists have been turned into a corporate-state propagandists, WikiLeaks stands out in their dogged pursuit of truth and exposing deep-seated corruption and graft.
It is this defiance in seeking truth and bringing light to criminality that has earned WikiLeaks in general, and Julian Assange specifically, scorn and contempt from autocrats in D.C. and throughout European capitals. It is at once amusing and vexing to hear public officials take to the podium to lecture tinpot dictators about good governance and respecting a free press while they target whistleblowers like Chelsea Manning, Edward Snowden and harass reporters like Julian Assange and Glenn Greenwald who dare give voice to them. This quest to silence free speech and neuter a free press is a bipartisan campaign and a bilateral initiative. Both sides of the aisle in D.C. and a multitude of supposedly "democratic" governments throughout the world are stepping up efforts to eradicate the rights of journalists and truth-tellers alike.
What is truly dismaying is the silence of mainstream reporters and media pundits in this ongoing war against journalism. The Committee to Protect Journalists makes a show of being outraged when reporters in my birthland like Eskinder Nega and Zelalem Workagegnehu are targeted for prosecution and detained indefinitely by brutal governments like the TPLF junta in Ethiopia. Yet this same organization sits on its hands Wednesday as Julian Assange had his access to the outside world cut off and continues to be locked up indefinitely for fear of losing his freedom or worse. Reporters in corporate media should focus like a laser on this nefarious attempt to curtail press rights instead of dedicating their resources to find out who bit Beyonce in the face or publishing lottery infomercials as leading news.
The effort to mute journalists and curtail a free press is a canary in the coal mine. We are firmly enmeshed in the era of corporate totalitarianism; targeting journalists is a leading indicator of an oncoming train of fascism. While we are transfixed on the catnip of Donald Trump and yipping at the red meat the establishment keep throwing at us, there is a concerted effort to roll back our freedoms and torpedo the U.S. Constitution. A few days ago, retired Supreme Court judge John Stevens introduced the idea of doing away with the Second Amendment. Tyranny is birthed through the womb of concern and breast fed by a public that is indifferent. We better wake up soon for an attack on journalism is the first shot to a wider assault on our collective freedoms. #WarOnJournalism
A nation that is afraid to let its people judge the truth and falsehood in an open market is a nation that is afraid of its people.
—John F. Kennedy
Wait, before you go…
If you're reading this, you probably already know that non-profit, independent journalism is under threat worldwide. Independent news sites are overshadowed by larger heavily funded mainstream media that inundate us with hype and noise that barely scratch the surface.  We believe that our readers deserve to know the full story. Truthdig writers bravely dig beneath the headlines to give you thought-provoking, investigative reporting and analysis that tells you what's really happening and who's rolling up their sleeves to do something about it.
Like you, we believe a well-informed public that doesn't have blind faith in the status quo can help change the world. Your contribution of as little as $5 monthly or $35 annually will make you a groundbreaking member and lays the foundation of our work.
Support Truthdig