Typhoon Lands in Japan, Fukushima Remains an Open Wound (Updated)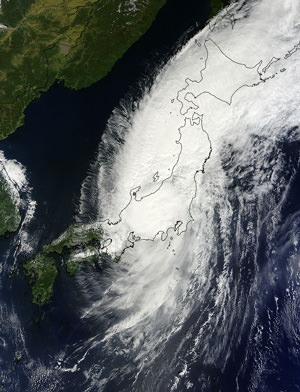 Managing Editor
Peter Scheer grew up in the newspaper business, spending family vacations with his mother at newspaper editors' conferences, enjoying daycare in editorial departments and begrudgingly reviewing his father's…
Update (9/16 12:20 p.m. PDT):
Downgraded from a typhoon to a tropical storm, Man-yi blanketed at least two-thirds of Japan's main island of Honshu on Monday. This area included Fukushima, where, according to Japan Times, "radioactive water was discharged to prevent the troubled complex from flooding." Original item follows below.
---
With Japanese authorities still struggling to contain contamination at the Fukushima Daiichi nuclear power plant two-and-a-half years after it melted down, we are reminded by events in the news that the disaster lies in one of the most volatile meteorological and geographical regions in the world.
A typhoon named Man-yi made landfall Monday morning in the ancient capital of Kyoto, one of the country's biggest and best-preserved cities. Authorities evacuated roughly 400,000 people from three prefectures. Typhoon is another word for hurricane, and the phenomenon is common enough in the region that Japan has a typhoon season, of which we are in the middle. The word "typhoon" may come from the Japanese words for "big" and "wind."
Japan sits on the Pacific Plate's ring of fire and it suffers regular earthquakes, one of which caused the tsunami (another Japanese word meaning "harbor waves") that destroyed the power plant that is now the subject of international concern. Because Fukushima was built on the ocean, the ground beneath it is very watery and about 72,000 gallons of radioactive groundwater leaks out into the Pacific every day.
As a last resort — or maybe just the latest resort — the country could spend as much as $410 million creating an ice wall around the contamination. The idea is to sink coolant tubes into the soil and then freeze the ground. Although the technology has been used before, Japan's chief cabinet secretary, Yoshihide Suga, acknowledged that "There is no precedent in the world to create a water-shielding wall with frozen soil on such a large scale."
Japan will host the 2020 Olympic Games, and has promised to clean up the Fukushima disaster before sports fans descend on Tokyo. But with the country's frequent natural disasters, action is clearly needed much sooner.
Of course reports of typhoons and earthquakes shouldn't be required to draw attention to what was ultimately a man-made disaster, one that has continued to haunt us long after the tsunami receded from Japan's shores.
— Posted by Peter Z. Scheer