Jun 25, 2018
Truthdig Wins 10 Prizes at the 60th Annual Southern California Journalism Awards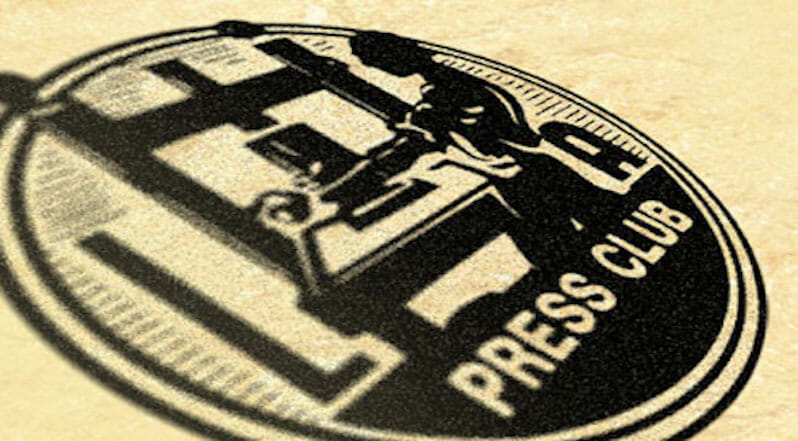 The Los Angeles Press Club honored Truthdig's work at its 60th annual Southern California Journalism Awards on Sunday. The news website, which received 19 nominations, earned three first-place prizes, six second-place awards and one third-place finish. Judging of the nearly 1,400 entries was done by press clubs from across the nation.
The announcements were made at a sold-out gala dinner at the Millennium Biltmore Hotel in downtown Los Angeles. "It was an important judgment by our journalistic peers," said Editor in Chief Robert Scheer, who attended the event with Publisher Zuade Kaufman.
First Place
In the Gender/LGBTQ Reporting category, Amelia Pang won for "Native American Rape Survivors Tell How Deck Is Stacked Against Them," a devastating look at sexual violence in the Native American community.
Pang wrote:
Candice, 43, had been sexually assaulted on four separate occasions. Her first perpetrator was a family member who molested her behind some trees by a lake when she was 5 years old. She doesn't remember whether he was arrested. The next three perpetrators were not arrested. Two of Candice's three daughters have also been raped. Their perpetrators were never arrested.

The Department of Justice estimates that one in three Native American women reports having been sexually assaulted during her lifetime. They are 2.5 times more likely to experience sexual violence than women of any other ethnicity in the U.S.

Candice's repeated encounters with sexual violence are part of what Native American women call an epidemic of sexual assault on reservations. … Rape survivors say … statistics illustrate the indifference by law enforcement to sexual assault.
Judges' comment: Kudos to Amelia Pang for this wonderfully written in-depth story looking at the pervasive culture of rape on Indian Reservations. Her story is gripping and horrifying. This is journalism at its best. And this is yet another example of why a dynamic and vibrant press is needed. Congrats on a job well done.
In the Political Commentary–National category, Paul Street took top honors for "An Insubordinate President," about the rise of Donald Trump.
Street wrote:
"Insubordinate elites," as the distinguished American foreign policy historian Alfred W. McCoy calls them, have long been a problem for the United States empire. They privilege their own personal interests and/or concept of serving their own nations above fealty to the United States, its allies and the Western-based multinational corporate and financial interests that reign behind the shield of U.S. power.

Over the years, these disobedient foreign leaders have come in different forms. Some have been men of the socialist, populist and nationalist left—actors like Mohammad Mossadeq (Iran), Jacobo Arbenz (Guatemala), Patrice Lumumba (Congo), Fidel Castro (Cuba), Ho Chi Minh (Vietnam), Kwame Nkrumah (Ghana), Sukarno (Indonesia), Salvador Allende (Chile), Michael Manley (Jamaica), Maurice Bishop (Grenada), Daniel Ortega (Nicaragua) and Hugo Chavez (Venezuela). Washington has responded to the defiance of these and other "left" Third World and "developing nation" actors with assassinations, assassination attempts, coups, coup attempts, invasions, counterinsurgency campaigns, espionage, propaganda and the cultivation of political and military opposition and influence within the noncompliant states.

But you don't have to be on the anti-imperial left to become what the U.S. ruling-class and imperial establishment considers an insubordinate elite and get put on Washington's shit and target lists.
Judges' comment: Although I don't agree with all of Paul Street's points, he is a winner in this category – that's how solid his argument is about how there is plenty of blame to go around for Trump's assent to the White House. His writing is strong, carefully crafted and well researched. And he's likely going to give me nightmares!
In the Commentary on TV/Film category, Carrie Rickey won for "What Happened to the Female Directors of Hollywood?" a five-part series on women behind the camera in Los Angeles' own backyard.
Rickey wrote:
It's a paradox, akin to why women receive 47 percent of law degrees but represent only 35 percent of those working in legal professions. And why, though 42 percent of architecture-school graduates are women, they are just 25 percent of practicing architects. Why do females make up between 33 and 50 percent of film-school graduates but account for only 7 percent of working directors, as Martha Lauzen, professor at San Diego State University, reports in her annual "Celluloid Ceiling" analysis of women on the screen? What happened to the other 43 percent?

In American film (a kind of parallel universe to American life), this asymmetry results in an asymmetry on screen, in which men outnumber women two to one. According to Walt Hickey at fivethirtyeight.com, in movies the workplace is more male—and more sexist—than in reality. "This is an industrywide problem that requires an industrywide solution," says Lauzen, who has been tracking the numbers for 20 years. "The heads of the studios dutifully mouth that they want change but have yet to introduce any programs or make hiring decisions demonstrating true leadership or vision."

In October 2016, the Equal Employment Opportunity Commission (EEOC), prompted by American Civil Liberties Union findings that "female filmmakers are effectively excluded from directing big-budget films and seriously underrepresented in television," began investigating Hollywood's gender gap.
This Truthdig series was published in partnership with Women and Hollywood and Chicken & Egg Pictures. Click here to read Part 1, here for Part 2, here for Part 3,  here for Part 4 and here for Part 5.
Judges' comment: In a category filled with strong entries, Rickey's series stands out for its examination of the gender gap in the film industry – how it started, and how it has been allowed to continue for so long. The research is exhaustive and the writing engaging.
Second Place
In the Columnist category, Sonali Kolhatkar, who received the top honor in this category in 2016, was recognized once more.
In the Political Commentary category,  Chris Hedges was recognized for  "The Permanent Lie, Our Deadliest Threat."
In the Best Use of Social Media to Enhance and/or Cover a Story (Individual)  category, Donald Kaufman was recognized for "Love and Peace Over Profits at Standing Rock."
In the Sports Commentary category, Eric Ortiz was recognized for "Take a Knee for Humanity."
In the Minority / Immigration Reporting category, Paul Street was recognized for "Government Structure – Not Just Personnel – Needs to Change."
In the Editorial Cartoon category, Mr. Fish was recognized for "Grope Therapy."
Third Place
In the Criticism on Books/Art/Architecture/Design category, Paul Von Blum was recognized for  "Poster Power: The Dramatic Impact of Political Art."
Below is a picture from Sunday's gala, tweeted by the Los Angeles Press Club.
Thank you all for celebrating the 60th Annual SoCal Awards with us ❤ pic.twitter.com/gwNBCc657I

— LA Press Club (@LAPressClub) June 25, 2018
Wait, before you go…
If you're reading this, you probably already know that non-profit, independent journalism is under threat worldwide. Independent news sites are overshadowed by larger heavily funded mainstream media that inundate us with hype and noise that barely scratch the surface.  We believe that our readers deserve to know the full story. Truthdig writers bravely dig beneath the headlines to give you thought-provoking, investigative reporting and analysis that tells you what's really happening and who's rolling up their sleeves to do something about it.
Like you, we believe a well-informed public that doesn't have blind faith in the status quo can help change the world. Your contribution of as little as $5 monthly or $35 annually will make you a groundbreaking member and lays the foundation of our work.
Support Truthdig