Apr 28, 2006
Schwarzenegger & Celebs: 'Stop the Madness' on Drugs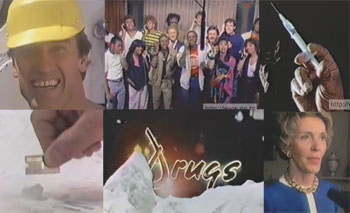 This 1985 anti-drug music video was the only such work to ever be sponsored by the White House. Featuring Ah-nold, Whitney Houston, David Hasselhoff and Nancy Reagan, it is a bygone, cheesy reminder of the nation's fight against drugs.
---
Video description from the web site Ep.tc:

Sort of the "We Are the World" that wasn't, "Stop the Madness" is the only 80s music video to ever be sponsored by the White House. It's also a total piece of nearly unwatchable crap. But a beautiful one in every possible sense. Please note: While I adore most of this, the beginning is pretty bad, starting off on the complete wrong note of a heavy montage with a heart beating and a tortured monkey. Patience rewards here, though. Hold out for a few seconds until New Edition shows up on the microphone. From then on it's all a 1980s singing and dancing drug-stomping miracle.

This was such a confusing piece of government bullshit few television stations knew what to do with it when the video was new and therefore STOP THE MADNESS was barely ever aired at all, leading many to think the video was possibly just a rumor. But the promise that the video existed continued to pop up from time to time — and given the participants involved (irony!) and the pure joy of wanting to see how the Reagan Administration interpreted "popular music video" we knew we had to find a copy to share. It wasn't easy to locate but we were finally able to find one from the personal archive of a no longer operational UHF television station in the midwest, who generously offers up this unexpurgated Broadcast Master copy, with the introduction and closing credits all included. What did they take in trade? A bottle of Vodka. Not kidding. Who could make that shit up? But I figure you'd need a drink too if you'd been holding onto this head-bending thing for twenty years. Thanks Nancy.
Wait, before you go…
If you're reading this, you probably already know that non-profit, independent journalism is under threat worldwide. Independent news sites are overshadowed by larger heavily funded mainstream media that inundate us with hype and noise that barely scratch the surface.  We believe that our readers deserve to know the full story. Truthdig writers bravely dig beneath the headlines to give you thought-provoking, investigative reporting and analysis that tells you what's really happening and who's rolling up their sleeves to do something about it.
Like you, we believe a well-informed public that doesn't have blind faith in the status quo can help change the world. Your contribution of as little as $5 monthly or $35 annually will make you a groundbreaking member and lays the foundation of our work.
Support Truthdig