May 24, 2012
Schumer 'Appalled' by Conservative Reaction to Tax-Dodger Bill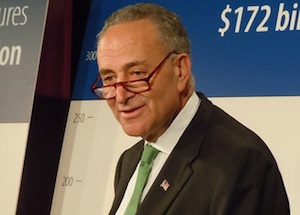 Sen. Chuck Schumer, D-N.Y., is ripping conservatives for their response to legislation he co-sponsored that would punish those who renounce their citizenship to avoid paying taxes. The bill was introduced after Facebook co-founder Eduardo Saverin gave up his American citizenship right before he was expected to earn billions from the company's much-anticipated IPO.
The "Ex-Patriot Act" would bar people like Saverin from returning to the U.S., while also leveling a 30 percent tax against their American investments.
Conservatives have championed Saverin as a hero. They have criticized Schumer for the legislation, comparing it to actions taken in Nazi Germany during World War II. –TEB
Talking Points Memo:

The criticism from conservatives has been fierce. Anti-tax activist Grover Norquist likened the bill to actions taken by Nazi Germany, while the Wall Street Journal compared it to "Soviet-style exit taxes." Similarly over-the-top attacks have been voiced by conservative commentators, who have argued that Saverin was chased away by progressive tax policies in the U.S.

"Grover Norquist says our bill is like fascist Nazi Germany," said Schumer, who is Jewish. "I know a thing or two about what Nazis did. Some of my relatives were killed by them." Punishing Americans who ditch U.S. citizenship to avoid legal obligations, he said, is "not even on the same planet as what the Nazis did to the Jews."

"I am really appalled by the reaction," he continued. "I'm not appalled by a debate on tax policy — I'm appalled by making heroic a man who renounced his citizenship to escape a tax rate, capital gains, of 15 percent." The senator emphasized that the Brazilian-born Saverin and his family immigrated to the United States out of fear for their safety while he was a young boy, and said it's immoral to dodge his responsibilities after having benefited tremendously.
Wait, before you go…
If you're reading this, you probably already know that non-profit, independent journalism is under threat worldwide. Independent news sites are overshadowed by larger heavily funded mainstream media that inundate us with hype and noise that barely scratch the surface.  We believe that our readers deserve to know the full story. Truthdig writers bravely dig beneath the headlines to give you thought-provoking, investigative reporting and analysis that tells you what's really happening and who's rolling up their sleeves to do something about it.
Like you, we believe a well-informed public that doesn't have blind faith in the status quo can help change the world. Your contribution of as little as $5 monthly or $35 annually will make you a groundbreaking member and lays the foundation of our work.
Support Truthdig