Oct 29, 2014
Pope Francis: 'Evolution of Nature Is Not Inconsistent With the Notion of Creation'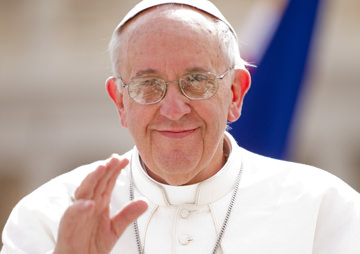 The increasingly popular pope warns against the perils of depicting God as a "magician," adding that evolution and creation are not incompatible ideas. And while Pope Francis isn't the first Catholic Church leader to suggest this, American conservatives somehow keep missing the memo. Even the previous pope, Benedict XVI, who's known for his traditionalism, "found the American debate between creationists and those who backed evolution 'absurd.' "
The Guardian:

Francis, 77, said it was easy to misinterpret the creation story as recounted in the book of Genesis, according to which God created heaven and Earth in six days and rested on the seventh.

"When we read the creation story in Genesis we run the risk of imagining that God was a magician, with a magic wand which is able to do everything," he said. "But it is not so. He created beings and let them develop according to internal laws which He gave every one, so they would develop, so they would reach maturity."

Although Francis was packaging the ideas with his trademark eye for a soundbite, the content of what he was saying does not mark a break with Catholic teaching, which has modified considerably since Charles Darwin published On The Origin of Species in 1859.

Read More.
—Posted by Natasha Hakimi Zapata
Wait, before you go…
If you're reading this, you probably already know that non-profit, independent journalism is under threat worldwide. Independent news sites are overshadowed by larger heavily funded mainstream media that inundate us with hype and noise that barely scratch the surface.  We believe that our readers deserve to know the full story. Truthdig writers bravely dig beneath the headlines to give you thought-provoking, investigative reporting and analysis that tells you what's really happening and who's rolling up their sleeves to do something about it.
Like you, we believe a well-informed public that doesn't have blind faith in the status quo can help change the world. Your contribution of as little as $5 monthly or $35 annually will make you a groundbreaking member and lays the foundation of our work.
Support Truthdig