Jul 31, 2015
No Justice for Cecil the Lion
Despite the international uproar over the killing of the popular Zimbabwe lion, prosecution of the American trophy hunter involved is far from a sure thing.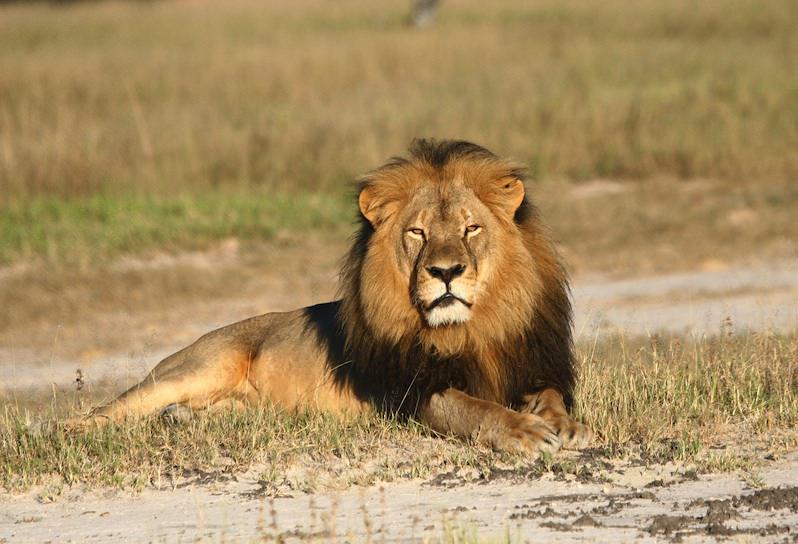 Cecil the 13-year-old Zimbabwe lion is dead but not forgotten. Nor should he be anytime soon by anyone concerned with issues of animal cruelty, white privilege, neocolonialism, global inequality, or international justice and extradition protocols and practices.
That's a long and ominous list of concerns, and while the catalog might at first seem a tad overblown, it isn't when you take a careful look at the circumstances of Cecil's demise:
According to a statement issued by Zimbabwe conservation authorities, Cecil was killed July 1 on private land adjacent to Hwange National Park, a 14,650-square-kilometer animal sanctuary and nature preserve in the northwest corner of the country, about an hour's drive south of the famous Victoria Falls.
Hunting is prohibited in Zimbabwe's national parks, but it's legal under prescribed conditions on private land. Two Zimbabwe citizens — Theo Bronkhorst, a white licensed hunter and guide, and Honest Ndlovu, a black farmer and the owner of the property where Cecil was slain — are being prosecuted for their respective roles in the killing for allegedly acting without required permits and in violation of quotas regulating the number of protected animals that can be killed.
Bronkhorst, who founded the company Bushman Safaris in 1992 to cater to well-heeled foreign adventure tourists, was charged July 29 with "failing to prevent an unlawful hunt." He was released on bail and ordered to return to court Aug. 5. If convicted, he faces a prison sentence of up to 15 years. Ndlovu has not yet been arraigned.
In the meantime, Zimbabwe prosecutors say they are looking for the third man implicated in Cecil's death — Dr. Walter Palmer, a dentist from the Minneapolis suburb of Eden Prairie who has a passion for big-game hunting in Africa and elsewhere.
The basic allegations of the emerging case are fairly straightforward: Before the kill, Palmer paid Bronkhorst and Ndlovu as much as $55,000 to arrange the hunt. About 40 hours before Cecil met his end, the three men lured him out of the park by tying an animal carcass to the top of a vehicle.
Once on Ndlovu's parcel, Palmer shot Cecil with an arrow delivered by a high-powered crossbow, wounding but not felling the lion. The hunters thereafter tracked Cecil for a day and a half before Palmer finished him off with a rifle. They then skinned and decapitated him, so Palmer could take Cecil's head back as a trophy to Minnesota.
Even if the plan clearly violated Zimbabwe law, the killing probably would have gone without protest had Cecil been an ordinary feline. Despite legal restrictions limiting lion hunting, it remains commonplace in many African countries, Zimbabwe in particular. According to The Guardian, citing figures supplied by the British charity Lion Aid, trophy hunters in Zimbabwe killed about 800 lions from 1999 to 2009 out of a total population of 1,680.
The practice is also highly lucrative. A July 30 article published by U.S. News and World Report disclosed that "Zimbabwe makes an estimated $20 million a year on trophy hunting, which represents 3.2 percent of its tourism revenue. The vast majority of trophy hunters are foreigners and across Africa, 25-30 percent of trophies go to Europe and 65 percent to the U.S."
Trophy hunters from the U.S. are typically wealthy and invariably white, a recent AlterNet posting asserts. Among those featured by AlterNet are Donald Trump's sons Eric and Donald Jr., who went to Africa in 2011 and subsequently uploaded to the Internet smiling images of themselves posing with a dead leopard, a deceased waterbuck and a slain crocodile; and GoDaddy Chief Executive Bob Parsons, shown in a photo in the AlterNet post proudly standing, rifle in hand, aside the lifeless body of a bull elephant.But unlike most wild game slaughtered for mantelpiece mountings or other kicks and jollies, Cecil was special. He had not only been a favorite of visitors to Hwange Park, he had been part of a long-term research project run by Oxford University.
As part of the project, Cecil had been outfitted with a GPS collar, which Palmer and his confederates reportedly tried to destroy after the kill. GPS tracking records enabled Zimbabwe officials to determine Cecil's whereabouts and no doubt were a key to cracking the investigation.
The question now is what will happen to the perpetrators, especially Palmer, who reportedly has returned to the U.S., without the lion's head, and gone into hiding, closing his dental practice. In a statement publicly released July 28, Palmer claimed he had "no idea that the lion I took was a local favorite, was collared [with GPS] and part of a study until the end of the hunt. I relied on the expertise of my local professional guides to ensure a legal hunt."
Killing Cecil, however, is not the first time Palmer has run into legal trouble for unlawful hunting. In 2008, he pleaded guilty to a charge of making a false statement to a federal agent in connection with hunting a Wisconsin black bear in 2006. He was placed on probation and ordered to pay a fine of nearly $3,000.
Nor have Palmer's past legal difficulties been confined to hunting. In 2009, for example, he negotiated a disciplinary settlement with the Minnesota Board of Dentistry that required his insurance carrier to pay $127,000 to a former receptionist who had accused him of sexual harassment.
The U.S. Fish and Wildlife Service has opened an inquiry into Cecil's killing for possible violations of the Lacey Act, which prohibits the trading of animals illegally killed both here and in foreign countries. But because the killing, skinning and beheading of Cecil took place abroad, and none of the big cat's remains have been brought into the U.S., there is little chance Palmer actually will be criminally charged and tried here.
Extradition to Zimbabwe, however, is possible.
The U.S. has negotiated extradition treaties with over 100 nations, including one with Zimbabwe that President Clinton signed in 1998. Like most extradition instruments, the Zimbabwe treaty is bilateral and governed by the principle of "dual criminality."
In order for an offense to be extraditable under that principle, the underlying misconduct must be punishable under the laws of both state parties to the treaty by a prison term of at least one year (essentially a felony) if the misconduct occurred in either nation. The wording of a foreign law need not match up exactly with an American statute; it's the content of the crime that counts. And when determining whether dual criminality exists on the U.S. side of an international extradition request, courts look not just to federal statutes but also to state laws.
In the estimation of several prominent extradition experts who have been interviewed about the Cecil incident, Palmer meets the criteria of dual criminality because the poaching of big game could be prosecuted as a felony in the U.S. Other state and federal laws prohibiting animal cruelty and illegal commercial transactions could also meet the dual criminality standard.
But will Zimbabwe demand Palmer's extradition? The latest news is that it intends to do so, although as yet, the US has not received an official request. Extradition is not only time-consuming but also expensive, requiring the arrest of suspects and entailing complex court hearings and potential appeals. For a poor country like Zimbabwe, extraditing a trophy hunter, even one as revolting as Palmer, could also jeopardize a much-needed revenue stream.
There are also, in some cases, political obstacles to extradition, especially of American citizens to foreign nations. Most extradition treaties carve out exceptions for crimes that state parties consider political or military in nature. Thus, even though an Italian court convicted 22 CIA operatives and a U.S. military colonel in absentia for the 2003 extraordinary rendition of an Egyptian cleric from Italy to Cairo, the Italian government has never served the State Department with an extradition request.
Palmer's alleged misdeeds in Zimbabwe may not be overtly political, but a similar dynamic is in play. It remains to be seen whether Zimbabwe will risk ruffling its already turbulent relations with the U.S. over the death of Cecil the lion.
It also remains to be seen whether the Zimbabwe government of Robert Mugabe, steeped in human rights violations for many years, will in the end have any interest in ending the detestable practice of big-game trophy hunting. Unless and until it does, however, the killing — some might even say murder — of Cecil the lion will go unpunished.
Wait, before you go…
If you're reading this, you probably already know that non-profit, independent journalism is under threat worldwide. Independent news sites are overshadowed by larger heavily funded mainstream media that inundate us with hype and noise that barely scratch the surface. We believe that our readers deserve to know the full story. Truthdig writers bravely dig beneath the headlines to give you thought-provoking, investigative reporting and analysis that tells you what's really happening and who's rolling up their sleeves to do something about it.
Like you, we believe a well-informed public that doesn't have blind faith in the status quo can help change the world. Your contribution of as little as $5 monthly or $35 annually will make you a groundbreaking member and lays the foundation of our work.
Support Truthdig