Jun 28, 2018
Local Governments Cut Contracts With ICE Over Immigrant Policies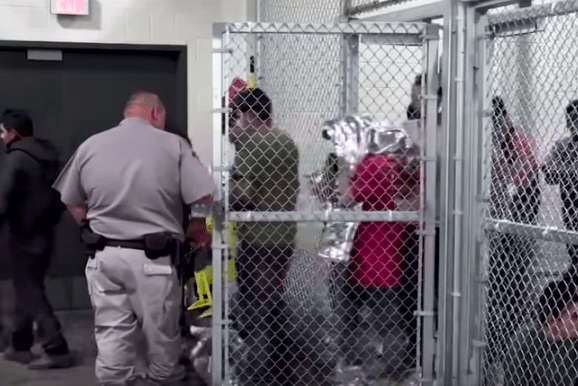 Cities around the country are responding to President Trump's zero-tolerance immigration policy by canceling what The New York Times reports can be lucrative contracts with U.S. Immigration and Customs Enforcement to provide housing facilities and services for detainees.
In one major victory for immigrant rights activists, commissioners in conservative Williamson County, Texas, voted earlier this week to cut ties with a 500-bed facility owned by CoreCivic, which housed mothers who had been separated from their children. Sofia Casini, an organizer with the group Grassroots Leadership, told the Times that while the group had been fighting against the facility for months, children torn from their families "really touched a different kind of community nerve."
According to the Austin-American Statesman, "The county was paid approximately $8,000 per month to provide deputies from the Williamson County sheriff's office to do random checks at the facility and investigate reports of abuse."
Sacramento County, Calif., had substantially more to lose, but as reported by the city's Capital Public Radio, the county still voted to end its multimillion-dollar contract with ICE. As the station explained: "For five years, ICE and the Department of Homeland Security paid the county $6.6 million annually to keep unauthorized immigrants who are awaiting hearings at its correctional facility in Elk Grove."
Capital Public Radio continued, "Three supervisors went against county staff and Sheriff Scott Jones' recommendations and voted against renewing the agreement."
Similar situations played out in Alexandria Va., and Springfield, Ore., with city officials backing away from agreements with ICE to house immigrant detainees in their adult jails and juvenile detention centers.
"The cancellations," the Times observes, "suggest an attempt to disengage from federal policies seen as harmful to immigrant families—even when those policies could be pouring millions of dollars into local government budgets."
They may be partly inspired by protests that have cropped up outside ICE field offices across the country.
In New York City, members of the Metropolitan Anarchist Coordinating Council helped a coalition of immigrant rights groups stage an occupation that blocked the loading dock of a local ICE office. This led to hearings being canceled or carried out via video conference Monday. Although the protest broke up Tuesday, on Wednesday the facility was still not holding in-person hearings, according to The Appeal, a publication focused on criminal justice.
In Portland, Ore., federal agents on Thursday dispersed a group of protesters that had been camping outside the city's ICE offices, shut for eight days. According to CBS station KOIN, eight people were arrested. Portland Mayor Ted Wheeler refused to help federal agents clear the area.
That children are at the center of the immigration crisis seems to be the breaking point for many city officials. As Houston Mayor Sylvester Turner told the Times, "There comes a time when we must draw the line, and for me the line is with our children."
Wait, before you go…
If you're reading this, you probably already know that non-profit, independent journalism is under threat worldwide. Independent news sites are overshadowed by larger heavily funded mainstream media that inundate us with hype and noise that barely scratch the surface.  We believe that our readers deserve to know the full story. Truthdig writers bravely dig beneath the headlines to give you thought-provoking, investigative reporting and analysis that tells you what's really happening and who's rolling up their sleeves to do something about it.
Like you, we believe a well-informed public that doesn't have blind faith in the status quo can help change the world. Your contribution of as little as $5 monthly or $35 annually will make you a groundbreaking member and lays the foundation of our work.
Support Truthdig