Oct 25, 2015
Political Questions Surround Iraq Raid in Which American Died (Video)
This post originally ran on Truthdig contributor Juan Cole's website.
A joint operation by US Delta force and Iraqi Kurdish freed 70 captives on Thursday, led to killing of 20 and the capture of 6 Daesh (ISIS, ISIL) forces, and left one US soldier dead. He was the first US military casualty in the struggle between Washington and the phony caliphate.
Hawija is a largely Sunni Arab town west of the mostly Kurdish city of Kirkuk in northeastern Iraq, and it has been in the hands of Daesh (ISIL, ISIS) for at least the past year. Outside of Hawija in a village called Fadhika, there is a prison camp run by Daesh. Prison camp is perhaps an inaccurate word. Holding cell for those about to be executed seems more like it. Hawija has about 50,000 residents inside city borders.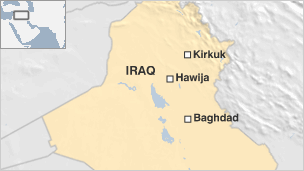 On Tuesday, Daesh murdered 18 persons at the camp, something that came to the attention of the US command and the Kurdistan Peshmerga or national guard (The Kurdistan Regional Authority is an ethnic superprovince in northern Iraq). There were rumors that Daesh had stashed a large number of captured Kurdish peshmerga at the compound and was planning to kill them all and roll them into a mass grave.
#ISIS executed 18 #Sunni civilians in Hawija, they then hung the bodies on electricity poles https://t.co/Y6uvcGeBM8

— #TruthAboutISIS (@TruthAboutISIS) October 22, 2015
So on Thursday morning, two elite teams of fighters went in. One is the Kurdistan Counter-Terrorism Group (CTG). The other is US Delta Force.
The London Arabic daily, al-Hayat [Life], writes that
local sources said that US forces landed near Hawijah, which is considered a hotbed for Daesh.
The operation began after reports were received that the prisoners faced imminent execution at the hands of the extremist group.
Eyewitnesses said that two military helicopters of Americans landed. Daesh has hidden hundreds of abductees around Hawijah.
The Kurdistan militia, the Pesh Merga, helped the American raid with logistical support.
This was the first time US military personnel participated in direct military operations against Daesh on land since the fall of Mosul.
Questions were raised by suspicious Shiites about whether the operation had been greenlighted by prime minister Haydar al-Abadi, who had asked the US land troops not be used in Iraq.
Another possibility is that the operation was simply a joint one of the US and the Kurds. That would be controversial because the Iraqi government would not want a Kurdistan force to intervene in Arab Iraq.
Perhaps such an operation could have been justified by the imminent execution of dozens of Kurdish Peshmerga. But a preliminary accounting seemed to show no Kurds among the rescued prisoners, which made the operation potentially an embarrassment for the Iraqi government.
Iraqi Shiite leaders expressed deep doubts about a Kurdistan/ US operation in Arab territory near to Iran. There is friction between the US military and the Shiite militias. A spokesman for one of them denied on Thursday that the US air force had helped in the liberation of the town of Beiji, which has a refinery and which the Shiite militias say they liberated on their own with the help of the Iraqi Air Force.
Wait, before you go…
If you're reading this, you probably already know that non-profit, independent journalism is under threat worldwide. Independent news sites are overshadowed by larger heavily funded mainstream media that inundate us with hype and noise that barely scratch the surface.  We believe that our readers deserve to know the full story. Truthdig writers bravely dig beneath the headlines to give you thought-provoking, investigative reporting and analysis that tells you what's really happening and who's rolling up their sleeves to do something about it.
Like you, we believe a well-informed public that doesn't have blind faith in the status quo can help change the world. Your contribution of as little as $5 monthly or $35 annually will make you a groundbreaking member and lays the foundation of our work.
Support Truthdig