Nov 1, 2015
Did Russia Change the Facts on the Ground in Syria on the Eve of the Vienna Summit? (Video)
Russia went into Friday's Vienna talks on Syria in a much strengthened position and could not be very easily dismissed by the U.S. and Saudi Arabia.
This post originally ran on Truthdig contributor Juan Cole's website.
Writing in al-Hayat [Life] last week, columnist Walid Choucair outlined the successes he sees Russia to have had in its Syria campaign, and the goals for which it is reaching. Choucair is the Lebanese affairs bureau chief of this pan-Arab, Saudi-owned London daily, which has a generally liberal outlook and many of the staff of which are like Choucair actually Lebanese.
He says one objective of Russia was to make impossible a US-Turkey brokered safe zone in the north of the country. There had even been talk of Turkey bringing back Syrian refugees to the hinterlands of Aleppo and creating a military-defended safe zone for them. These plans did not pan out. He says Russia feared that this safe zone would be a conduit for ever more medium weaponry to rebel groups, including extremists, especially ground to air weapons. These might have been provided for deployment against Syrian fighter jets, he says, but the nations supporting the rebels would not dare supply them for use against Russia.
The second objective, he says, is the use of Russian bombardment and shelling to paralyze the forces of the Free Syrian Army and other rebel groups.
The third goal is to reorganize and rebuild the Syrian Arab Army, which has shown its inability to defend strategic sites such as Idlib Province's capital city Idlib, a city of 80,000, which fell to the al-Qaeda-led Army of Conquest in late March this year.
In turn, Choucair says, Russia hoped that achieving these three objectives would allow it put forward a formula for a political resolution of the conflict. Russia is now more eager than ever, he suggests, for a political solution because it does not want a long drawn-out engagement in that country.
Meanwhile, Al Monitor argues that the regime's Syrian Arab Army has in fact taken a line of villages northeast of Hama, what it calls the Umm Haratain-Atshan-Sukayk line, with Russian air support.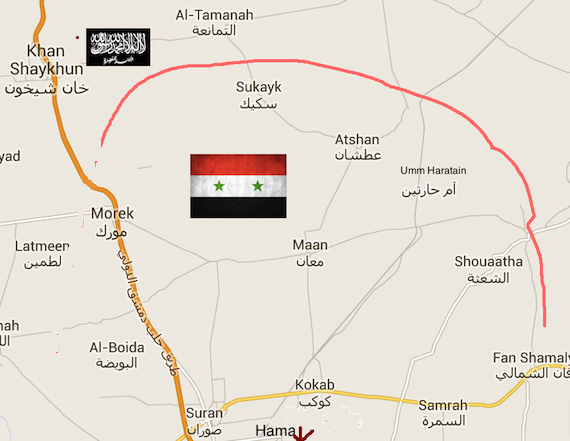 Via Google Maps
These advances put the SAA in striking distance of Tamaneh and Khan Shaykhun in the northwest of Hama. It says Khan Shaykhun has symbolic importance for al-Qaeda (the Support Front) in Syria. But this region north of Hama is also the gateway to a regime riposte in Idlib Province itself, which it has lost entirely since last spring to the al-Qaeda-led Army of Conquest. The Army of Conquest coalition's strong position in Idlib allows it to threaten regime supply lines from Hama up to Aleppo to the northeast, and allows it to menace the province of Latakia, an Alawite Shiite stronghold and the site of Syria's major port city, to the west.
One thing is sure– Russia went into Friday's Vienna talks on Syria in a much strengthened position and could not be very easily dismissed by the US and Saudi Arabia. It was also able to arrange for Iran to join the talks, a previously unthinkable step for the US and Saudi Arabia, and one that Riyadh warned could cause the conference to fail.
WAIT, BEFORE YOU GO…
If you're reading this, you probably already know that non-profit, independent journalism is under threat worldwide. Independent news sites are overshadowed by larger heavily funded mainstream media that inundate us with hype and noise that barely scratch the surface. We believe that our readers deserve to know the full story. Truthdig writers bravely dig beneath the headlines to give you thought-provoking, investigative reporting and analysis that tells you what's really happening and who's rolling up their sleeves to do something about it.

Like you, we believe a well-informed public that doesn't have blind faith in the status quo can help change the world. Your contribution of as little as $5 monthly or $35 annually will make you a groundbreaking member and lays the foundation of our work.
SUPPORT TRUTHDIG