Refuting Donald Trump's Attack on Rep. John Lewis
Jan 15, 2017
It began when Rep. John Lewis (D-GA) announced that he would not attend the inaugural of Donald J. Trump because he did not consider him a legitimate president.
Lewis, sometimes called "the conscience of Congress," emerged to prominence as a very young man in 1963-66 as Chairman of the Student Nonviolent Coordinating Committee (SNCC)– of which he had been one of the founders. He organized the large numbers of students active in the Civil Rights movement. The 1963 March on Washington was to some extent his idea.
Since 1986, Lewis has represented the Fifth Congressional District in Georgia, comprising much of Atlanta, including its downtown, and western and southern suburbs.
Trump, of course, could not control himself and tweeted at Lewis,
Congressman John Lewis should spend more time on fixing and helping his district, which is in horrible shape and falling apart (not to……

— Donald J. Trump (@realDonaldTrump) January 14, 2017
mention crime infested) rather than falsely complaining about the election results. All talk, talk, talk – no action or results. Sad!

— Donald J. Trump (@realDonaldTrump) January 14, 2017
Congressman John Lewis should finally focus on the burning and crime infested inner-cities of the U.S. I can use all the help I can get!

— Donald J. Trump (@realDonaldTrump) January 15, 2017
People are complaining that Trump is attacking Lewis, a close associate of Rev. Martin Luther King, Jr., on the eve of the latter's official day. But what difference would that make to Trump? He says racist things every day of the year.
I've spoken at Georgia State University in downtown Atlanta, and I think it is very nice. Of course all big cities have some problems, but Trump has mixed up the 5th District with some other inner city. His incorrect assumption that because Lewis is African-American, he represents a slum is incredibly offensive.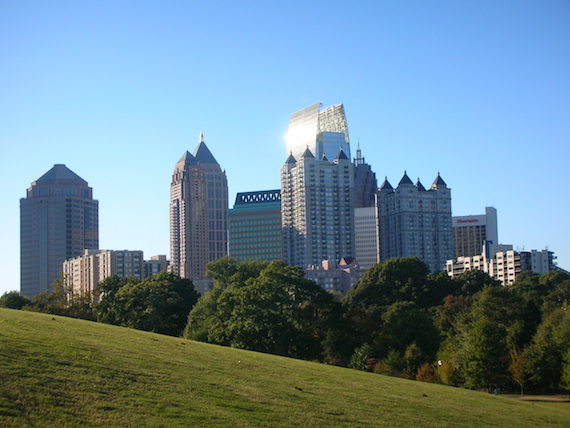 Midtown Atlanta skyline, h/t Wikimedia
Actually, some 33% of Lewis's district is white and 5% is Asian, so that non-African-Americans are nearly 4 in 10.
The median family income in Atlanta is $48,000 a year. It is lower than the recent US national average of $54,000 a year, but not that much lower. It is higher than plenty of great American cities, including St. Louis and Des Moines.
Atlanta's income levels have steadily shot up during the past few decades. It has one of the biggest Black middle classes in the country. African-Americans are hurt by income equality, however. Trump is not going to make incomes more equal in the US.
Some 90% of residents of this district have a high school education or higher, and 40% have a bachelor's degree or higher.
As for crime, Atlanta is not one of the 25 cities where the murder rate has increased slightly in the past few years. It should be noted that the murder rate in the US has fallen dramatically since the early 1990s, and the slight increase is some cities is relatively small. Statistics look big when you start from a low base.
This is what the chart for the murder rate since 1990 looks like in Atlanta: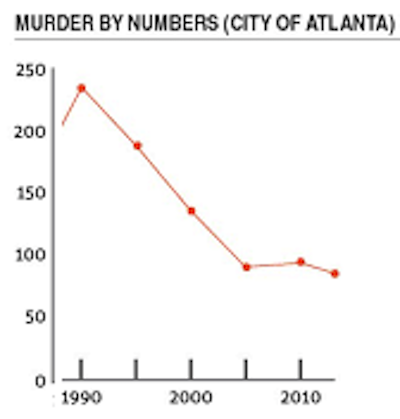 h/t Atlanta Magazine
Far from falling apart, Atlanta has seen housing starts increase by double digits in the past year.
The average sold home price in Atlanta has rebounded from the Great Recession into which Trump's Wall Street buddies had plunged the country, and is very healthy, as demonstrated by this graph from 2011 through September 2016:
My fifth image riposting to Trump is not a graph. It is a photo of John Lewis on an infamous bridge in 1965.
John Lewis kept being beaten and arrested. He did not back down. He won, and Jim Crow in the law is gone and is itself illegal.
John Lewis declared Jim Crow illegitimate, and after a while it wasn't there any more. John Lewis has declared the Trump presidency illegitimate.
More from Juan Cole
You may also like