Feb 22, 2016
Would a Syrian Kurd Defeat of Islamic State Help Democrats Win the White House in 2016?
This has been a war with a lot of seesawing, so it is premature to make any decisive pronouncements. But this is an election year, and if Islamic State is defeated in Syria in 2016, it could vindicate President Obama's strategy.
Bad news came out of Syria for Daesh (ISIS, ISIL) on two fronts Friday: Aleppo and, in Syria's far east, Hasakah. This has been a war with a lot of seesawing, so it is premature to make any decisive pronouncements. But this is an election year, and if (I say 'if') ISIL or Daesh as it is locally known were to be defeated in Syria in 2016, it would vindicate President Obama's strategy and would inevitably bolster the credentials of the Democratic Party on security.
When we last attended to the dramatic advances of the Syrian Arab Army of Bashar al-Assad and its coalition just north of the country's largest city, Aleppo, the forces being rolled back were al-Qaeda in Syria (the Nusra Front) and its political and tactical allies. In the last week, the Syrian military has raced east, right into Daesh territory.
SAA liberate Jebb Ghabishah in East #Aleppo from ISIS. Since the beginning SAA has been fighting ISIS non stop! #map pic.twitter.com/duYxYKoD9K

— The 'Nimr' Tiger (@Souria4Syrians) February 18, 2016
On Friday, it was announced that the army, supported by Iranian and Iraqi militias, was closing in on the regional center of al-Bab, northeast of Aleppo, which is held by Daesh. Just 7 km to its southwest lie Jab Ghabisha and al-Sin, and these two towns have now fallen to the Syrian Arab Army.
The SAA had come into al-Sin, then some of its troops were car-bombed by Daesh, provoking fierce gun battles and intense aerial bombardment by the Russian air force, and when the smoke cleared Daesh had been forced to withdraw.
At the same time that the Syrian military and its allies have secured the entire area just north of Aleppo, the Kurdish YPG militia has taken a belt just to the north of Syrian Arab Army positions. Both strips of territory north of Aleppo are now bounded to the east by Daesh territory. The implications of these developments are that the rebel forces that hold east Aleppo are now completely cut off from resupply routes coming down from Turkey.
Latest Aleppo control map by the excellent Agathocles of Syracuse site…https://t.co/rQiKgUGGZq pic.twitter.com/iS6SDB1jpv

— The War Nerd (@TheWarNerd) February 17, 2016
There is danger that the Syrian regime will subject east Aleppo to a horrific siege, in which non-combatants will face starvation, as has happened elsewhere in the country. While it is true, as Steven Kinzer points out, that the US press has an odd blind spot to the danger of al-Qaeda in Syria, it is unfair to see everyone in east Aleppo as al-Qaeda. Many are Syrians who rose up against a horrible, oppressive, one-party state notorious for spying on its citizens and its routine use of torture.
In the far northeast of Syria, the Kurdish-led Syrian Democratic Forces took the key town of al-Shaddadi, south of the city of Hasakah. The predominant force within the SDF is the YPG Kurdish militia. The Kurds of this region are attempting to carve out a semi-autonomous Kurdish ethnic province in Syria, which they call Rojava, and al-Shaddadi may mark its southern extent. The town was notorious as a slave market for Daesh, where Yazidi girls were sold. It also sits astride the main road link between Raqqa and Mosul, the Syrian and Iraqi capitals of the phony caliphate, respectively. Losing it may also make it harder for Daesh to supply its fighters in Deir al-Zor to the south.
The SDF advance was made possible by intensive US bombing of Daesh positions in al-Shaddadi, just as the SAA advances toward al-Bab to the west were made possible by intensive Russian bombardment. The lesson once again that bombing is useless unless there are ground forces willing and able to take advantage of it.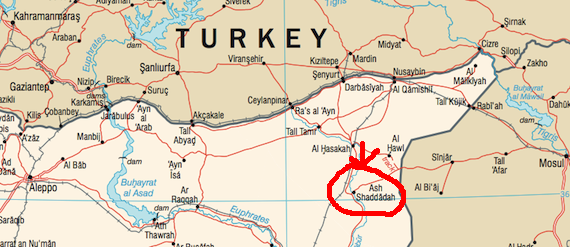 H/t U of Texas Maps
Two wrinkles to this story of the roll-back of Daesh, which ought to be good news. First, Turkey's President Tayyip Erdogan is apoplectic about the Kurdish advances, both north of Aleppo and in Hasakah, and President Obama had a 90-minute telephone conversation with him Friday trying to reassure him that the US isn't screwing him over. Erdogan blamed Thursday's bombing in Ankara on the Syrian YPG (almost certainly an error or propaganda), and in turn blamed US-provided munitions. But the bottom line is that, as I mentioned at the beginning, it is an election year in the US, and the Democratic Party would benefit from a roll-up of Daesh this year, and the YPG is volunteering for the job (Turkey never did). So the US alliance with the YPG is likely to continue. In fact, there are 50 US spec ops warriors embedded with the YPG in the east, and the US has shared their positions with Russia so they there aren't any accidental bombings of them.
Me, I will regret the fall of east Aleppo, if it happens, because the Baath secret police will wreak a horrific revenge on the rebellious population. Likewise, I would have regretted the rebel capture of east Aleppo, where regime loyalists predominate, since they would have been massacred by al-Qaeda. (East Aleppo was cut off from food and had begun to starve in October before Russian intervention allowed the Syrian army to regain control of the supply routes). And, it would have been a nightmare for Syria and for the world if the al-Qaeda-led 'Army of Conquest' had taken the western province of Latakia, whose some 2 million inhabitants are predominantly Alawites or other groups favorable to Syrian dictator Bashar al-Assad. (See Robert Fisk's first-hand report from Latakia, which is now back under regime control, and from which al-Qaeda has been expelled over the border into Turkey). The best thing would have been if the Munich cease-fire were implemented and positions frozen, forestalling reprisals, and if Syria could then move toward elections– in which east Aleppo could just vote for a party that represented them, other than the Baath.
Wait, before you go…
If you're reading this, you probably already know that non-profit, independent journalism is under threat worldwide. Independent news sites are overshadowed by larger heavily funded mainstream media that inundate us with hype and noise that barely scratch the surface. We believe that our readers deserve to know the full story. Truthdig writers bravely dig beneath the headlines to give you thought-provoking, investigative reporting and analysis that tells you what's really happening and who's rolling up their sleeves to do something about it.
Like you, we believe a well-informed public that doesn't have blind faith in the status quo can help change the world. Your contribution of as little as $5 monthly or $35 annually will make you a groundbreaking member and lays the foundation of our work.
Support Truthdig