Watch: Gay Men Will Marry Your Girlfriend to Help Pass Same-Sex Marriage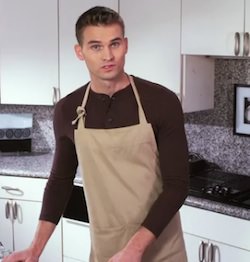 Marriage equality is now a reality in nine states and the District of Columbia. While same-sex marriage is gaining acceptance in the U.S. — just look at the 2012 election, where voters in Maine, Maryland and Washington state passed initiatives to legalize it — most states still prohibit gay couples from getting hitched.
Enter the fine, young, gay gentlemen from College Humor. For the states that do not allow gay marriage, College Humor is starting a campaign to promote gay rights and marriage equality. And it starts and ends with this ultimatum: Let gays marry each other, or they'll marry your girlfriend. And don't think your girlfriend isn't interested after watching the video below.
The Huffington Postmight
have understated it a bit when they said these gentlemen have a "pretty solid case." It's more like a slam dunk.
— Posted by Tracy Bloom.
Assistant Editor
Tracy Bloom left broadcast news to study at USC's Annenberg School for Communication and Journalism. There she eventually became deputy editor of Neon Tommy, the most-trafficked online-only college website in…