Oct 3, 2015
U.S.' Atlantic Coast Likely to Take Worse Battering With Warming
Scientists say the Eastern Seaboard of the United States faces more frequent storms and flooding as sea levels continue to rise with climate change.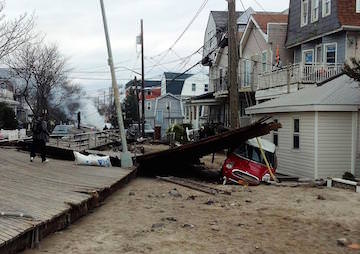 By Tim Radford, Climate News Network
This Creative Commons-licensed piece first appeared at Climate News Network.
LONDON — Sea level rise and global warming spell danger for New York as average flood heights have risen by 1.25 metres along that part of the US coast — and new research warns that the devastating flood that arrived with Superstorm Sandy in 2012 could happen again.
A flood height of 2.25 metres would once have happened only every 500 years. Now scientists say it could recur every 25 years.
And a second study finds that almost the entire US Atlantic coast is increasingly at risk from the combined hazards of storm surge and sea level rise, and that this risk rises dramatically with time. According to one scenario, it could increase 350-fold.
The two studies are based on different approaches, but they reinforce each other's conclusions.
Historic approach
Andra Reed, a researcher in the Department of Meteorology at Pennsylvania State University in the US, and colleagues report in the Proceedings of the National Academy of Sciences that the devastation of Sandy prompted them to take the historic approach.
They did this by using fossil evidence to reconstruct the history of flooding along the coast where New York City now stands.
The 2012 hurricane breached the sea walls at Battery Park on the southern tip of Manhattan, and flooded the city's subway tunnels, but the city's record of such surges goes back only to 1850.
So the researchers used a mix of climate models and evidence from sediments and tiny marine organisms to build up a picture of sea level change between AD 850 and 2005.
"In the pre-anthropogenic era, the return period for a storm producing a surge of 2.81 metres or greater, like Sandy at the Battery, would have been about 3,000 years," Reed said. "We found that, in the anthropogenic era, the return period for this same storm surge height has been reduced to about 130 years."
"A storm that occurred once in seven generations is now occurring
twice in a generation."
Her co-author, Benjamin Horton, professor of marine and coastal sciences at Rutgers University, put the same findings another way. "A storm that occurred once in seven generations is now occurring twice in a generation," he said.
The 1,200-year reconstruction of sea level change showed that sea level rise had risen at its steepest rate in 1,000 years in the last century. This meant that "an extra 100,000 people flooded in the region during Hurricane Sandy who would not have been flooded if sea level had not been rising".
Sandy caused an estimated $50 billion worth of damage and destroyed 600,000 houses. But concern about storms and floods — especially along densely populated coasts — is not new.
In the last three years, researchers have warned that maritime cities could by 2050 face an annual toll of $1 trillion in flood defences and damage, and this may have risen to $100 trillion by 2100.
America's eastern seaboard already experiences sea level rises above the global average, and routine high tide flooding presents an increasing hazard.
But the unholy mix of rising seas and more intense coastal storms presents special dangers, according to Christopher Little, a climate scientist at Atmospheric and Environmental Research in Lexington, Massachusetts.
Climate models
He and colleagues report in Nature Climate Change journal that they analysed 15 climate models at five locations — Atlantic City in New Jersey, Charleston in South Carolina, Key West and Pensacola in Florida, and Galveston in Texas — to see not just what would happen to sea level rise, and to the frequency and intensity of hurricanes, but also the chances that the two could coincide.
They calculated what might happen if the planet greatly reduced the emissions of greenhouse gases — produced by the combustion of coal, oil and natural gas — and what could be expected if the humans went on burning them in the "business-as-usual" scenario.
Even if the planet voted for severe cuts in fossil fuel use, the combined heights and durations of future floods could increase at least fourfold, and perhaps as much as 75-fold. If humans carry on pumping oil and shovelling on the coal, this "flood index" could increase by 35 to 350 times.
"When you look at hazards separately, it's bad enough, but when you consider the joint effects of two hazards together, you can get some surprises," says one of the report's co-authors, Radley Horton, a climate systems researcher at Columbia University's Earth Institute. "Sometimes one plus one can equal three."
WAIT, BEFORE YOU GO…
If you're reading this, you probably already know that non-profit, independent journalism is under threat worldwide. Independent news sites are overshadowed by larger heavily funded mainstream media that inundate us with hype and noise that barely scratch the surface. We believe that our readers deserve to know the full story. Truthdig writers bravely dig beneath the headlines to give you thought-provoking, investigative reporting and analysis that tells you what's really happening and who's rolling up their sleeves to do something about it.

Like you, we believe a well-informed public that doesn't have blind faith in the status quo can help change the world. Your contribution of as little as $5 monthly or $35 annually will make you a groundbreaking member and lays the foundation of our work.
SUPPORT TRUTHDIG