Sep 15, 2016
Trump-Supporting Felon Allegedly Torches Florida Mosque, Says 'All Islam Is Radical'
By Juan Cole / Informed Comment
Joseph Michael Schreiber stands accused of having carried out an arson attack against a mosque in Fort Pierce, Florida, about an hour's drive north from West Palm Beach.
The mosque was burned down on the first night of Eid al-Adha or the Festival of Sacrifice, a major Muslim holy day that in part commemorates Abraham's willingness to sacrifice his son at God's command. The fire was set after midnight and it wasn't until 5 am until the local firefighters could put the blaze out.
The small congregation of 100 vows to rebuild the edifice.
Those who want to contribute to the rebuilding can do so at this page by clicking on "support."
The Fort Pierce Islamic Center had a web page that wished visitors "peace be upon you" and described itself this way:
"In the name of God, the Most Merciful and Most Compassionate,

The Islamic Center of Fort Pierce is the oldest mosque in the Treasure Coast area, located on West Midway Road in White City. The purpose of this mosque is to cater to the needs of the greater Muslim community by providing a wide range of services, activities, programs, and classes. Over the years, the mosque has been a central point for the Muslim community and the center has been used for events, lectures, meetings, classes, and much more. We strongly condemn all acts of terror and violence."
It serviced a diverse community from 22 countries. Muslim-Americans in the Fort Pierce have been living in fear and suffering from severe harassment for several years.
Schreiber, 32, is single and is likely to remain so. He has a history of petty theft and faces 30 years in prison if he is convicted of the arson as a hate crime.
He at one point posted to his Facebook page a GOP National Committee picture showing Trump/Spence and the words "The team that will make America great again!"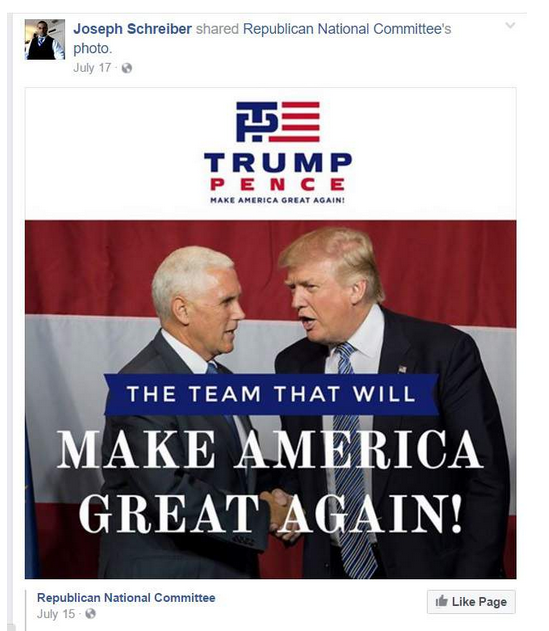 It seems to me that Donald Trump bears some of the responsibility for the burning of the mosque and that the congregants should look into suing him.
Trump has said that "Islam hates us," has advocated banning Muslims from coming to the United States and has baited President Obama for not using the phrase "radical Islamic extremism." He might as well have handed the Fort Pierce arsonist a can of gasoline and some matches.
Schreiber at one point wrote "ALL ISLAM IS RADICAL , and should be considered TERRORIST AND CRIMANALS and all hoo participate in such activity should be found guilty of WAR CRIM until law and order is restored in this beautiful free country , all who agree with this statement ,like it and make a comment."
He also attacked President Obama and Sec. Hillary Clinton.
Actually, Muslim-Americans have served in the US military protecting the United States from terrorist and other threats. The community is thought to be at least 3 million strong in this country and so comprises 1 percent of the US population. They are disproportionately well educated. They agree that women should have their own careers if they want them, and the women in the Muslim-American community have even more higher degrees that the men. Muslim-Americans have a deep history on this continent. Many Latinos in the southwest were of Arab Muslim heritage from Andalucia, who had been forced to convert to Catholicism but sometimes kept some Muslim customs. Muslims were brought from Africa as slaves from the beginning of American history in the time of the British colonies, and at least 20% of the slaves were Muslim. Since Muslim slaves probably helped build the White House, it is only right that the African-American son of an African Muslim now inhabits it.
Schreiber does not appear anywhere to have mentioned Omar Mateen, who frequented a gay nightclub in Orlando seeking dates and later committed a mass shooting there. It is alleged that Mateen may have stopped in at the Fort Pierce mosque two or three times a year and that he attended there as a small child.
It is extremely irresponsible for the press to put Mateen in the headlines and the lede about the arson, since there is no known connection, and the members of the Fort Pierce congregation aren't responsible for him. Many are high-powered physicians curing local Floridians of their ailments.
Indeed, foregrounding Mateen, who was not living in Fort Pierce and did not commit his crime there, is a form of blaming the victim and would never be done with regard to other religions.
If there were an arson at the Christian church would journalists dig up all the felons who had gone there and mention them in the headline?
The story here is not that the Fort Pierce Muslim community deserved what happened to them. It is that they were attacked by a racist bigot who appears to have been inspired by the anti-Muslim hate speech of Donald J. Trump and his acolytes. And mark my words, this is only the beginning.
Wait, before you go…
If you're reading this, you probably already know that non-profit, independent journalism is under threat worldwide. Independent news sites are overshadowed by larger heavily funded mainstream media that inundate us with hype and noise that barely scratch the surface.  We believe that our readers deserve to know the full story. Truthdig writers bravely dig beneath the headlines to give you thought-provoking, investigative reporting and analysis that tells you what's really happening and who's rolling up their sleeves to do something about it.
Like you, we believe a well-informed public that doesn't have blind faith in the status quo can help change the world. Your contribution of as little as $5 monthly or $35 annually will make you a groundbreaking member and lays the foundation of our work.
Support Truthdig