Aug 2, 2016
Top Five Ways to Tell if a Terrorist Is Still al-Qaida Despite Name Change
The leftist Beirut newspaper al-Safir comments scathingly on the name change of the Syrian al-Qaida affiliate, the Nusra Front, to the Syria Conquest Front.
This post originally ran on Truthdig contributor Juan Cole's website.
The leftist Beirut newspaper al-Safir comments scathingly on the name-change of the Syrian al-Qaeda affiliate, the Nusra Front led by Abu Muhammad al-Julani, to the Syria Conquest Front.
Here are some reasons that the name change isn't going to work:
1. Al-Julani got permission from 9/11 mastermind Ayman al-Zawahiri, the leader of old al-Qaeda, to sever public ties with him because, you know, being in a command line to al-Qaeda was a PR problem for the Syrian guerrilla opposition to the Syrian regime. But if you have to get permission from al-Qaeda to change your name, then guess what? You're still al-Qaeda.
2. In the announcement of the name change, as al-Safir points out, there was no explicit renunciation of the ties between al-Julani and al-Qaeda or of the pledge of fealty al-Julani gave al-Zawahiri. (Or I might add, any apology for having hooked up with al-Qaeda.) He just said that a new organization has been formed that has no relations with any foreign quarter.
3. The new name is Front for the Conquest of Greater Syria. Conquest has a bad ring to it. I don't think Syria needs to be conquered by these seedy-looking guys (and the name implies he wants Lebanon and Jordan and Israel/Palestine, too). The Huns conquered Rome. The Mongols conquered Iran. Tojo conquered the Philippines. Maybe if they had been a liberation front or a member of one it might have a less unsavory ring. As it is, it is still obvious that they want to impose their hyper-fundamentalist ideology at the point of a gun on Syrian women, Alawis, Kurds, Druze, secular Sunnis, etc. etc.
4. Al-Safir says that the attempted image change comes way too late. The Nusra Front was asked by former CIA head David Petraeus to ditch al-Qaeda and join the coalition against Daesh (ISIS, ISIL), but it didn't. As a result, it lost most international support and contributed to a loss of support for its allies. Now, the strategic and tactical situation in Syria has completely changed, since Russia began bombing last fall. Al-Qaeda and its allies have lost enormous ground in the meantime, and now even East Aleppo has been surrounded.
5. Nobody will believe you if you look like this: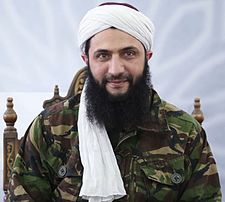 h/t Wikipedia
You might be thinking the switch from a black to a white turban would do the trick. But you forgot this one: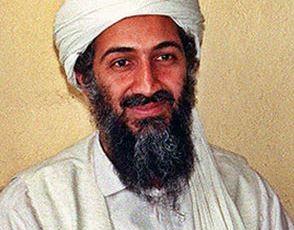 h/t Wikipedia
WAIT, BEFORE YOU GO…
If you're reading this, you probably already know that non-profit, independent journalism is under threat worldwide. Independent news sites are overshadowed by larger heavily funded mainstream media that inundate us with hype and noise that barely scratch the surface. We believe that our readers deserve to know the full story. Truthdig writers bravely dig beneath the headlines to give you thought-provoking, investigative reporting and analysis that tells you what's really happening and who's rolling up their sleeves to do something about it.

Like you, we believe a well-informed public that doesn't have blind faith in the status quo can help change the world. Your contribution of as little as $5 monthly or $35 annually will make you a groundbreaking member and lays the foundation of our work.
SUPPORT TRUTHDIG