Jun 1, 2016
The U.S. Senator Who Thinks We Need More Incarceration
Tom Cotton, a Republican from Arkansas, argues that the U.S. isn't putting enough people behind bars. He ignores the fact that when ex-felons are allowed to reintegrate into society as productive, tax-paying citizens with voting rights, they are far less likely to reoffend.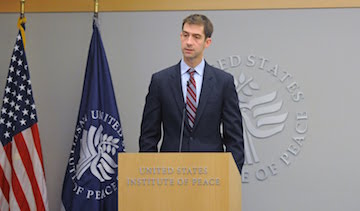 By John Kiriakou
Freshman U.S. Senator Tom Cotton (R-Ark.), a firebrand darling of the extreme right, thinks the United States has a problem with incarceration — underincarceration, that is. That's right.
Cotton criticized congressional efforts to reform the country's broken prison system, arguing instead that federal and state governments ought to be building more prisons and jailing even more Americans, rather than fewer.
According to The Sentencing Project, the U.S. leads the world in incarceration, with 2.2 million people in prison or jail, a 500 percent increase over the last 40 years.
"Take a look at the facts," Cotton told the conservative Hudson Institute on May 19. "First, the claim that too many criminals are being jailed, that there is overincarceration, ignores an unfortunate fact: For the vast majority of crimes, a perpetrator is never identified or arrested, let alone prosecuted, convicted and jailed."
"Law enforcement is able to arrest or identify a likely perpetrator for only 19 percent of property crimes and 47 percent of violent crimes," he added. "If anything, we have an underincarceration problem."
As if that weren't enough, Cotton said he believes that releasing felons with reduced sentences, or reforming mandatory minimum sentences, would serve only to destabilize communities. Cotton also opposes felon re-enfranchisement, though he pays lip service to states' rights to restore felons' voting rights?
"Should murderers, rapists and others whose behavior falls so far outside the norms of civilized society be immediately accommodated?" he asked. "Given recidivism rates, should we create an automatic pro-crime constituency in our society? Should felons be trusted to elect legislators who make the law, prosecutors who enforce it and judges who apply it?"
Cotton is certainly entitled to his opinion, but he's not entitled to his own facts.
First, according to the Bureau of Justice Statistics (BJS), Cotton's 19 percent and 47 percent figures are taken out of context. Those numbers have nothing to do with law enforcement's ability to "identify a likely perpetrator." Instead, they reflect the percentages of such crimes that are reported to law enforcement. Indeed, an accompanying poll found that the reasons for not reporting crimes were primarily that victims did not trust the criminal justice system (39 percent) and that the police could not or would not help (16 percent).
Second, Cotton ignores solid evidence that recidivism rates are down for both federal and state felons and that recidivism rates have been overestimated for years.
Third, Cotton ignores the fact that if ex-felons are allowed to reintegrate into society as productive, tax-paying citizens with voting rights and a stake in the safety and success of their communities, they are far less likely to reoffend than if they are denied that opportunity.
Cotton also apparently hasn't learned anything from history. Robert H. Jackson, who served as attorney general under President Franklin Roosevelt and later as an associate justice of the Supreme Court, warned Americans about overzealous prosecutors. In 1940, he said:
"The prosecutor has more control over life, liberty, and reputation than any other person in America. His discretion is tremendous. He can have citizens investigated and, if he is that kind of person, he can have this done to the tune of public statements and veiled or unveiled intimidations. The prosecutor can order arrests, present cases to the grand jury in secret session, and on the basis of his one-sided presentation of the facts, can cause the citizen to be indicted and held for trial. If he obtains a conviction, the prosecutor can still make recommendations as to sentence, and after he is put away, as to whether he is a fit subject for parole. While the prosecutor at his best is one of the most beneficent forces in our society, when he acts from malice or other base motives, he is one of the worst."
Cotton also apparently hasn't read Harvard Law School professor Harvey Silverglate's book "Three Felonies a Day," which posits that the United States is so overcriminalized and overregulated that the average person, on the average day, going about his or her normal business, commits three felonies. Every day. Jackson and Silverglate, more than a half-century apart, agree: If a prosecutor really wants to get you, he'll get you. And there's nothing you can do about it.
Of course, even if Cotton were aware of Jackson and Silverglate, his positions on criminal justice likely wouldn't change. With that in mind, perhaps the current attorney general might consider looking at Cotton for his possible violation of the Logan Act, which states:
"Any citizen of the United States, wherever he may be, who, without authority of the United States, directly or indirectly commences or carries on any correspondence or intercourse with any foreign government or any officer or agent thereof, with intent to influence the measures or conduct of any foreign government or of any officer or agent thereof, in relation to any disputes or controversies with the United States, or to defeat the measures of the United States, shall be fined under this title or imprisoned not more than three years, or both."
Cotton did exactly that in March of last year when he colluded with the Israeli government and wrote a hostile letter to Iran's leadership in an effort to block President Obama's nuclear deal with the Islamic nation. The senator ought to be charged with that crime, and he should be thinking about his own incarceration, rehabilitation and re-enfranchisement. But don't hold your breath.
John Kiriakou is a former CIA counterterrorism operations officer and former senior investigator for the Senate Foreign Relations Committee.
WAIT, BEFORE YOU GO…
If you're reading this, you probably already know that non-profit, independent journalism is under threat worldwide. Independent news sites are overshadowed by larger heavily funded mainstream media that inundate us with hype and noise that barely scratch the surface. We believe that our readers deserve to know the full story. Truthdig writers bravely dig beneath the headlines to give you thought-provoking, investigative reporting and analysis that tells you what's really happening and who's rolling up their sleeves to do something about it.

Like you, we believe a well-informed public that doesn't have blind faith in the status quo can help change the world. Your contribution of as little as $5 monthly or $35 annually will make you a groundbreaking member and lays the foundation of our work.
SUPPORT TRUTHDIG