May 6, 2016
The Smartest Places on Earth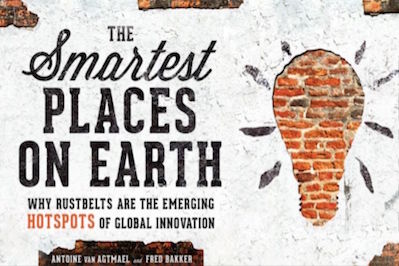 "The Smartest Places on Earth: Why Rustbelts Are the Emerging Hotspots of Global Innovation" A book by Antoine van Agtmael and Fred Bakker To see long excerpts from "The Smartest Places on Earth" at Google Books, click here.
One question haunts most cities, states, regions and entire countries: How can we become more competitive?
It's not a new question, but it is one being asked with increasing urgency. Global competition, technological innovation, the rapid pace of change, and the growing gap between the rich and the rest have made competitiveness a global sweepstakes.
Buy the book
In "The Smartest Places on Earth," policy analyst Antoine van Agtmael and journalist Fred Bakker claim to have found the answer to the competitiveness question. As they traveled around the world, they write, "it became clearer that we were indeed witnessing a whole new phenomenon in which the sharing of brainpower was taking place in very unlikely places that were becoming the hotspots of innovation." These unlikely places — the rust belts — are the cities and regions that the previous round of competitiveness crushed.
The authors give us what they have determined are the components of this transformation from rust belt to "brainbelt": complex challenges that are too expensive or complicated for any one outfit to tackle alone; a "connector" who builds collaborative relationships; an ecosystem that has a research university at its center with startups, well-established companies, state and local government, and community colleges in the mix; a focus on specific economic sectors; a willingness to share knowledge; and physical centers such as incubators and accelerators where collaborative work can be done. Driving this formula are three other elements: an environment that attracts talent; available investment capital; and an appreciation of just how high the stakes are.
The authors' argument is that their research in the United States and Europe has uncovered this fundamentally new formula, and it's rust-belt communities that are benefiting from it.
Which raises two questions: Is it new? And is it true?
To answer the first question, you have to see where this book fits into the extensive body of work on competitiveness because, as it turns out, as urgent as the topic is now, it has been urgent for a long time.
In 1988, for example, David Osborne published "Laboratories of Democracy," featuring an introduction by a then-relatively unknown governor, Bill Clinton. Osborne toured America, looking at suffering states such as Massachusetts and New York, and recounted their strategies to adapt to "the new economy." He concluded that these innovators were creating — that's right! — a new model for competitiveness. The formula sounded a lot like what we're hearing today. It included "a vibrant intellectual infrastructure; a skilled, educated work force; an entrepreneurial climate; a sufficient supply of risk capital."
Other authors have discovered similar formulas: Richard Florida in "The Rise of the Creative Class," Dan Senor and Saul Singer in "Start-up Nation," Brad Feld in "Startup Communities," and Jane Jacobs and Michael Porter in their work on cluster economies.
It turns out, this new phenomenon is actually conventional wisdom and has been for some time. It's the right approach — but it's not new.
What about the claim that the old rust belts are being transformed into the new hot spots?
It depends on what you mean by rust belt.
To most Americans, the Rust Belt is a geographic location. The phrase conjures up images of abandoned auto plants, tire factories and steel mills in Michigan, Ohio and Indiana. Bruce Springsteen memorialized the sad soundtrack of America's Rust Belt in "Youngstown."
To their credit, van Agtmael and Bakker do showcase the changes in Akron, Ohio, and Malmo, Sweden, two cities working to replace rust with innovation. But they also use Portland, Oregon, and the Research Triangle Park in North Carolina as examples of rust-belt communities reinventing themselves. Having worked for the mayor of Portland in the 1970s, I can testify that the city has never thought of itself as part of the rust belt. And while the Research Triangle Park does, in part, owe its formation to the exodus of the textile industry from North Carolina, that dates back to the late 1950s and early 1960s.
The authors seem only loosely tied to the promise of their subtitle. Halfway through the book, they pivot from their rust-belt claim and start a new chapter: "Not every brainbelt emerges from a rustbelt." And just like that, we're off to Minneapolis, leaving the rust belt in the rearview mirror.
In the end, this book leaves you curious about the questions the authors didn't ask. If we know the formula for economic recovery, why is it so hard to apply it? More than 30 years ago, then-Michigan Gov. Jim Blanchard said that his state would become "Silicon Alley." Why hasn't it? Can we learn more from failure than success?
What new practices are reshaping the way community leaders answer the call to competitiveness? What happens as cities apply design thinking and user experience to economic development? Will crowdsourcing, crowdfunding and hyper-localism point communities in new directions? Finally, is there such a thing as too much of a good thing? Looking at the crush of people, money and escalating costs in Silicon Valley and San Francisco today, Portland, Austin, Boulder, Colorado, and other successful smaller communities are asking a next-generation competitiveness question: How do we combine competitiveness and livability?
The subject of competitiveness isn't going away — and neither is the question of what comes next.
Alan M. Webber is a former editorial director of the Harvard Business Review and a co-founder of Fast Company magazine.
©2016, Washington Post Book World Service/Washington Post Writers Group
Wait, before you go…
If you're reading this, you probably already know that non-profit, independent journalism is under threat worldwide. Independent news sites are overshadowed by larger heavily funded mainstream media that inundate us with hype and noise that barely scratch the surface.  We believe that our readers deserve to know the full story. Truthdig writers bravely dig beneath the headlines to give you thought-provoking, investigative reporting and analysis that tells you what's really happening and who's rolling up their sleeves to do something about it.
Like you, we believe a well-informed public that doesn't have blind faith in the status quo can help change the world. Your contribution of as little as $5 monthly or $35 annually will make you a groundbreaking member and lays the foundation of our work.
Support Truthdig