Jul 2, 2015
The New York Times Found a Way to Upset the Internet and Get Everyone to Agree on One Thing
Rather than offer terrible culinary advice, perhaps the newspaper should report on more pressing matters.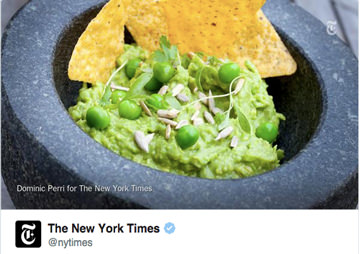 Add green peas to your guacamole. Trust us. http://t.co/7imMY9c2ph pic.twitter.com/oeOMt2qgmh

— The New York Times (@nytimes) July 1, 2015

It's hard to know what on earth compelled The New York Times to offer the worst culinary advice this country has yet to see. Of course, this may be an overstatement, but when the president of the United States of America feels the need to tell you just how ludicrous it is to put peas in guacamole (take a second to let that sink in), it's pretty safe to say your cooking cred is over.

respect the nyt, but not buying peas in guac. onions, garlic, hot peppers. classic. https://t.co/MEEI8QHH1V

— President Obama (@POTUS) July 1, 2015

To see some more responses to the misguided advice, click here.

Meanwhile, perhaps the newspaper should report more effectively on more pressing matters, like, who knows, perhaps the numerous black churches that are being burned in the South?

From CNN:

First, California's epic drought has been drying up avocado supplies across the country. Avocado prices have been increasing, and fast food chain Chipotle Mexican Grill said it would consider getting rid of avocados temporarily if costs continued to rise.

Now the New York Times is basically axing the buttery treat out of guacamole, proposing an alternative ingredient instead: peas.

New York Times food columnist Melissa Clark has sparked outrage across social media after publishing a recipe that calls for English peas to be added into a traditional guacamole dish.

Read more.

—Posted by Natasha Hakimi Zapata
WAIT, BEFORE YOU GO…
If you're reading this, you probably already know that non-profit, independent journalism is under threat worldwide. Independent news sites are overshadowed by larger heavily funded mainstream media that inundate us with hype and noise that barely scratch the surface. We believe that our readers deserve to know the full story. Truthdig writers bravely dig beneath the headlines to give you thought-provoking, investigative reporting and analysis that tells you what's really happening and who's rolling up their sleeves to do something about it.

Like you, we believe a well-informed public that doesn't have blind faith in the status quo can help change the world. Your contribution of as little as $5 monthly or $35 annually will make you a groundbreaking member and lays the foundation of our work.
SUPPORT TRUTHDIG