Feb 13, 2017
The Ghosts Within: A Journalist's Struggle With PTSD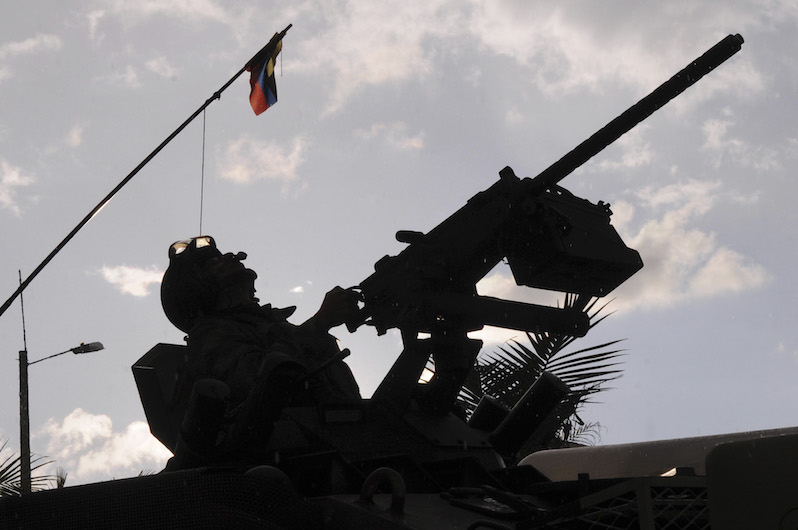 1
2
3
I was sitting by myself in a bar in Cali, Colombia, when I suddenly burst into tears, for no apparent reason. I didn't know why I was bawling, but I was conscious of being in a public place and needed to get out of there. I took a taxi to my hotel room, where the crying continued. The next day, I flew home to Canada—a journey filled with more inexplicable tears. During a layover in Panama City, I sat crying in an airport restaurant for more than an hour. On the long flight to Toronto, I cried some more. What was happening to me? I didn't know. All I knew was that I was having an emotional breakdown. The emotional turmoil continued when I got home, and Terry, my partner, convinced me to see a therapist. Terry thought I might be suffering from post-traumatic stress disorder as a result of my work as a war correspondent, but I wasn't convinced. Nevertheless, I acquiesced to her wishes and saw a counselor who specializes in treating PTSD. He confirmed Terry's suspicions. And so began a new journey that has required both me and my family to learn how to live with my mental illness. Covering Colombia's Conflict For almost two decades, I worked as a journalist in Colombia, Venezuela, Cuba and the West Bank. I conducted most of my work in Colombia, where I spent 13 years investigating the United States' war on drugs and the armed conflict there. As a U.S. citizen, my primary motivation was a desire to make the U.S. public aware of the foreign policies of its government. I spent a couple of months each year in Colombia's rural conflict zones. And it was during those years that much of the trauma that resulted in my PTSD occurred. While I was working in Colombia, the thought of being affected by PTSD never entered my mind. I certainly was not aware that 29 percent of journalists working in war zones become afflicted with the disorder. In my work I met many Colombians who inspired me with their bravery and commitment in the struggle for social justice. But I also witnessed and experienced horrific suffering. I visited massacre sites and saw images that will forever be ingrained in my memory. One peasant woman had been killed by a bullet to the face, fired at close range; she was eight months pregnant. There was a farmer whose face had been pummeled by a blunt object and caved in beyond recognition. There was the unbearable stench and grotesque disfigurement of a massacre victim whose body had been decomposing in the tropical heat for three days. There was the butchered body of a young male who had been hacked up by machete-wielding, right-wing paramilitaries. There was the farmer who had not only lost his left leg to a land mine, but had also lost his land and his will to live, despite the best supportive efforts of his wife and four small children. There was the woman who spent a long night lying wounded with her baby amid the dead bodies of 119 women and children in the rubble of a church that had been bombed by leftist guerrillas. There were the sick children who had been poisoned by chemicals sprayed by anti-drug fumigation planes. There was the anguish of the four mothers whose sons had been abducted by the U.S.-backed Colombian army and then executed and passed off as guerrillas killed in combat. There were the villagers whose community had been occupied by right-wing paramilitaries who then systematically raped most of the women and girls. And there were countless women and children I met who had been forcibly displaced from their homes and lands and had to live the precarious lives of refugees in dangerous shantytowns. It was not only the violence and terror perpetrated against others that I was exposed to, but also the threat of violence against me. Working in conflict zones requires functioning constantly with a heightened sense of awareness. I was on edge all the time, anticipating a sudden burst of gunfire, a bomb attack or an encounter with a military or guerrilla checkpoint. On numerous occasions I accompanied army, guerrilla and paramilitary patrols through the jungle in constant expectation of being ambushed or of stepping on a land mine. In one instance, I was surrounded by automatic gunfire in the middle of a major nighttime street battle, when guerrillas attacked the town of Saravena. I regularly came upon checkpoints of armed groups, never knowing whether I was going to be detained and interrogated, or kidnapped or killed. On three occasions I was held at gunpoint by armed groups: twice by leftist guerrillas and once by right-wing paramilitaries. Those detentions were the most terrifying experiences of my life. I was held on remote farms in the jungle, where I was interrogated and threatened with death. My sense of impotence was overwhelming. I had no control over whether I would walk out of there alive. My future—if I was to have one—rested entirely on the decisions of local military commanders. My fear and anxiety were intense and almost overwhelming, particularly during the last of the three detentions, which occurred when my oldest son, Owen, was 3 months old. During one particularly intense nine-month period, I endured three traumatic events. My father had a heart attack, slipped into a coma and died at the age of 67. One month later, I saw numerous brutalized bodies at a massacre site in rural Colombia. And then I witnessed the collapse of the Twin Towers in New York City on 9/11 and participated in the search for survivors amid the mounds of rubble at ground zero. I also experienced trauma prior to my work as a journalist in Colombia, when I was detained for eight days by the army in El Salvador at the height of that country's civil war. During that detention, I witnessed horrific abuses, including the gang-rape of my female cellmate by three Salvadoran soldiers. But despite the traumatic events I witnessed and experienced, I believed I was fine. I was not an emotional person, and I rarely cried. I thought I was a strong, independent man who could handle anything.
Wait, before you go…
If you're reading this, you probably already know that non-profit, independent journalism is under threat worldwide. Independent news sites are overshadowed by larger heavily funded mainstream media that inundate us with hype and noise that barely scratch the surface.  We believe that our readers deserve to know the full story. Truthdig writers bravely dig beneath the headlines to give you thought-provoking, investigative reporting and analysis that tells you what's really happening and who's rolling up their sleeves to do something about it.
Like you, we believe a well-informed public that doesn't have blind faith in the status quo can help change the world. Your contribution of as little as $5 monthly or $35 annually will make you a groundbreaking member and lays the foundation of our work.
Support Truthdig