Jul 13, 2013
Texas Passes Anti-Abortion Legislation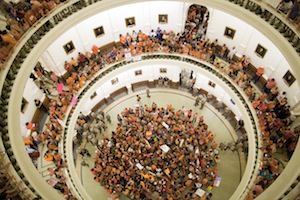 Late Friday night, Texas state senators approved the anti-abortion bill that their colleague Wendy Davis had filibustered to the excitement and applause of hundreds of thousands of Americans last month.
Davis appeared to have killed the bill with her 11-hour filibuster in late June. But Gov. Rick Perry called a second special legislative session aimed at easily passing the measure.
Texas is one of several states that have sought to restrict access to abortions this year. Monday, a federal judge temporarily blocked the introduction of a new abortion law in Wisconsin. Like the measure in the Lone Star State, the legislation requires doctors who perform abortions to have admitting privileges at nearby hospitals. Texas' bill also demands that abortion clinics meet the standards of other surgical centers and bans the procedure after 20 weeks.
Texas Democrats attempted to dilute the provisions Friday by, among other things, including an amendment that would have allowed exceptions to the 20-week limit in cases of incest or rape. Republicans blocked those efforts.
It appears the bill will force the closure of all but five of the state's 42 abortion clinics. Residents will lose access to other family-planning services those offices provide, such as consultations and disease screening.
— Posted by Alexander Reed Kelly.
The Guardian:

Perry said on Fox News last Sunday that the shouting that scuppered the vote was "mob rule". During this session, which began last week, officials have been strictly enforcing a ban on what they consider to be disruptive conduct. But there was no silencing the crowds who gathered on all four floors of the capitol's huge rotunda on Friday for the climax of weeks of protests and rallies related to the bill, creating a heady, unruly atmosphere.

Many chanted slogans and songs and brandished banners. Some of the anti-abortion activists held up placards referencing the Bible. Those against the bill wore orange, and those who termed themselves "pro-life" dressed in blue.

By mid-afternoon the orange demonstrators heavily outnumbered the blues and the queue to enter the gallery stretched along a staircase and almost to the end of one wing of the statehouse, with hundreds standing for hours in the hope of seeing the proceedings. There was silence in the halls when Wendy Davis spoke shortly after 11.30pm. "Tens of thousands of Texans will not be able to make the long drive, sometimes hundreds of miles, to the closest clinic," she said. "We are about to take away from victims of rape and incest a chance to reclaim their lives."
Wait, before you go…
If you're reading this, you probably already know that non-profit, independent journalism is under threat worldwide. Independent news sites are overshadowed by larger heavily funded mainstream media that inundate us with hype and noise that barely scratch the surface.  We believe that our readers deserve to know the full story. Truthdig writers bravely dig beneath the headlines to give you thought-provoking, investigative reporting and analysis that tells you what's really happening and who's rolling up their sleeves to do something about it.
Like you, we believe a well-informed public that doesn't have blind faith in the status quo can help change the world. Your contribution of as little as $5 monthly or $35 annually will make you a groundbreaking member and lays the foundation of our work.
Support Truthdig