Sep 29, 2016
Ten Things That Should Have Come Up During the Debate but Didn't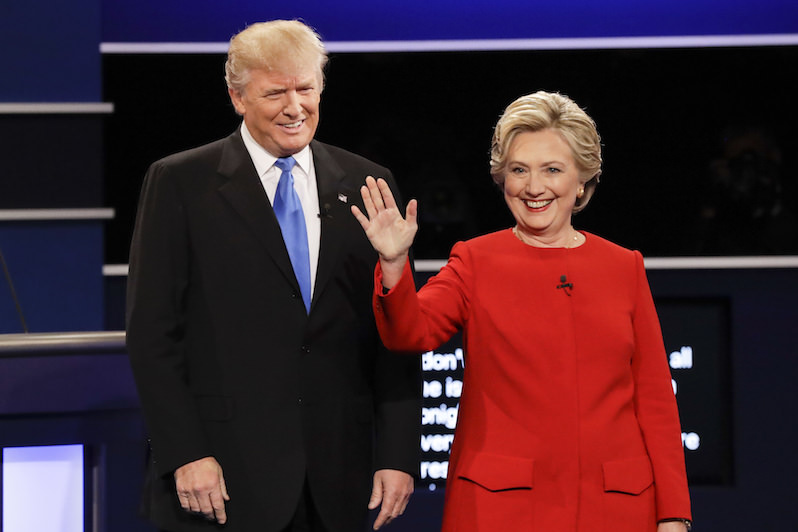 It seems as though we dread elections in the United States. Over several past races, only 50 percent to 60 percent of eligible voters have cast their ballots. More and more Americans are tuning out of the electoral process. Monday night's debate, the first matchup between the two major-party candidates, was a perfect showcase for explaining voter apathy.
The confines of the debate were set by the Commission on Presidential Debates and had the potential to unleash a wide-ranging set of arguments on the issues of income inequality, race and policing, and national security. Instead, over the course of more than 90 minutes, we saw Donald Trump sputter lies and half-truths, interrupt, talk over and "mansplain" issues to Hillary Clinton. And we saw Clinton, the center-right candidate by most reasonable measures, appear by contrast to be the sane and liberal-leaning candidate—at least most of the time. Not only were the issues narrowed down to meaningless levels, they generally skewed politically rightward.
Here are 10 big topics that got no mention during the debate. This is by no means an exhaustive list but simply an indicator of how issue-poor the first presidential debate was.
1. During the discussion on income inequality, no one mentioned how corporations and wealthy elites have created such a lopsided economy in favor of the rich that the entire project of capitalism can be questioned. A recent report by the U.K. organization Global Justice Now found that of the top richest 100 economic institutions worldwide, a majority—69 to be exact—are corporations. That means that Wal-Mart, the world's richest corporation, on whose board Clinton once sat, is wealthier than the country of Spain.
2. No one bought up how poverty is affecting Americans, the residents of the world's wealthiest of all economic entities. So dire are the straits of our most vulnerable citizens that a disturbing new report found that hungry American teenagers are often trading sex for food. This shameful effect can be traced to government policies of the kind that Clinton's husband, former President Bill Clinton, pushed in the name of welfare reform. Whether on a global or domestic scale, such shocking indicators of the failures of capitalism were not considered worthy of discussion during the debate.
3. During one of Trump's very few moderately sane moments in the debate, he raised legitimate concerns about free trade, calling Clinton out for her support of the 1994 North America Free Trade Agreement between the U.S., Canada and Mexico. By most measures, NAFTA has been disastrous for both U.S. and Mexican workers and has driven much of the emigration from Mexico to the U.S. Trump also rightly called Clinton out on her initial support for the proposed Trans-Pacific Partnership (TPP), a much wider-ranging and highly secretive trade deal between the U.S. and a number of Pacific nations that has been denounced by labor and environmental groups. What Clinton failed to point out was Trump's claim that economic growth is hampered by too much regulation—this idea runs counter to his opposition of NAFTA and TPP. The so-called "free trade" agreements are designed to free corporations from the burdens of environmental regulations, labor laws and similar things. Clearly, Trump, the billionaire businessman, has only attached himself to the anti-free-trade sentiment in order to win votes from working- and middle-class Americans. In the end, it became obvious that a billionaire debating a millionaire will hardly result in any substantive discussion of how global trade deals hurt ordinary people.
4. We have just caught one of the most high-profile U.S. banks, Wells Fargo, engaging in widespread criminal behavior, targeting millions of Americans with fraudulent bank accounts and credit cards. Wells Fargo has fired thousands of its low-level workers and taken no real responsibility, short of paying a paltry fine, for its shenanigans. CEO John Stumpf is so obscenely wealthy that as a penalty for overseeing the bank's crimes, he will return $41 million in stocks. He will not, of course, face prison time. Nor will any top Wells Fargo executives. This major news story did not even get a mention during the debate because, after all, corporations are seen by politicians of both major parties as noble job creators, rather than the "blood-sucking vampire squids" that they often are.
5. During the discussion on race and policing, neither candidate mentioned these three little words: Black Lives Matter. Neither mentioned how so few police officers involved in so many killings of unarmed black Americans have been convicted, charged or even indicted. Instead, what we heard from both candidates is that "working with the police" is a major solution to curbing violent and unjustifiable killings by police. But our criminal justice system is already so biased in favor of police that black Americans live in constant fear of being pulled over precisely because, for far too long, we have indeed worked with the police, and only the police.
6. While the candidates had a welcomed debate over New York City's now-illegal "stop-and-frisk" program, with Trump blatantly exposing his ignorance on the matter, what did not get mentioned was the ongoing practice of racial profiling nationwide. Racial profiling, at the heart of stop-and-frisk, is technically unconstitutional, but it persists throughout the country, deeply affecting the quality of life for people of color, especially African-Americans. Clinton's mention of "implicit bias" came close to the issue but ultimately skirted it.
7. During the discussion of cybersecurity, which fixated on Russia's espionage attempts, no mention was made of the National Security Agency's unparalleled invasion of Americans' privacy. As Edward Snowden's revelations have shown, the U.S. has destroyed all semblance of the right to privacy in the name of cybersecurity. Halfhearted attempts at legislating curbs on mass surveillance have failed or stalled.
8. When discussing foreign policy (under the popular guise of "national security"), Trump made one brief mention of Israeli Prime Minister Benjamin Netanyahu that seemed to have little bearing on the conversation. Other than that, there was no mention of Israel or the recent approval of an unprecedented aid package to Israel—a veritable gift of U.S. taxpayer dollars—in an amount larger than any nation has ever been promised. The military aid, in the form of sophisticated weaponry, will be used against Palestinians living in the West Bank and Gaza. It is hardly surprising that the word "Palestinians" and "Palestine" did not feature at all during Monday night's discourse.
9. While there was much focus on Islamic State, mostly in terms of who was responsible for its rise, no substantive discussion emerged on whether bombing Iraq and northern Syria will destroy Islamic State or cause it to proliferate. Discussion of President Obama's expanded drone wars, which fuel much of Islamic State's rage, also was absent. After all, drone strikes are at the forefront of our not-so-secret secret war. Both candidates also failed to mention that U.S. policies in the Middle East are driving the largest global refugee crisis in modern history.
10. Finally, there was no mention of the wars we have fueled in our own hemisphere, in countries whose refugees have arrived on our doorstep. Clinton's role in Central America was easy fodder for Trump, but he stayed away from it because it would mean admitting that Central American children, whom Clinton has said she wanted to deport, are human beings driven by desperation to migrate northward through no fault of their own. Clinton's role in the coup in Honduras that unleashed horrific violence in that country did not come up, even as she touted her credentials as secretary of state.
Too many issues that are far too important remain invisible during our presidential election debates. It is no wonder that elections seem less and less relevant.
Wait, before you go…
If you're reading this, you probably already know that non-profit, independent journalism is under threat worldwide. Independent news sites are overshadowed by larger heavily funded mainstream media that inundate us with hype and noise that barely scratch the surface.  We believe that our readers deserve to know the full story. Truthdig writers bravely dig beneath the headlines to give you thought-provoking, investigative reporting and analysis that tells you what's really happening and who's rolling up their sleeves to do something about it.
Like you, we believe a well-informed public that doesn't have blind faith in the status quo can help change the world. Your contribution of as little as $5 monthly or $35 annually will make you a groundbreaking member and lays the foundation of our work.
Support Truthdig