Apr 5, 2013
Our Modern Day Addiction to Technology and Propaganda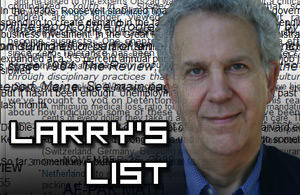 Thanks to the urge to be constantly wired, extremist propaganda is becoming easier and easier to feed to the masses; the industrial food system has a single aim–make CEOs and shareholders rich; meanwhile, legalizing gay marriage may make it more difficult for LGBT activists to effectively fight other types of discrimination, such as hate crimes. These discoveries and more below.
On a regular basis, Truthdig brings you the news items and odds and ends that have found their way to Larry Gross, director of the USC Annenberg School for Communication. A specialist in media and culture, art and communication, visual communication and media portrayals of minorities, Gross helped found the field of gay and lesbian studies.
How Digital Technology Has Helped Unleash a Devastating New Era of Propaganda What is modern propaganda? For many, it is the lies of a totalitarian state.
The Three Dimensions of Ethnography Looking back on several decades of intellectual activity, American sociologist Jack Katz explains his vision of a three-dimensional ethnography, combining human interactions, biographical experiences and historical processes.
Mobile Phones and Politics in China The penetration of mobile phones in Chinese daily life has made collective actions easier to organize and challenged government censorship.
Hugh Howey: Self-publishing is the future — and great for writers Books have changed forever, and that's a good thing. Writers will find readers and make more money going it alone.
Three's Company Stanford University, the epicenter of the modern massive open online course movement, said this week that it will develop online learning software with only one of the three MOOC providers not founded by a Stanford faculty member.
David Simon on America's War on Drugs and 'The House I Live In' The writer/director, who contributed to this hard-hitting documentary, on why U.S. drug policy has gone terribly wrong.
The True Cost of Industrialized Food The objective of much of our industrial food system is to provide a profit to shareholders and CEOs.
Smuggler Caught With 10 Percent of an Entire Species of Tortoise At the Suvarnabhumi International Airport in Thailand, authorities stopped a man with some turtles.
The Chilling Effects of the DMCA The outdated copyright law doesn't just hurt consumers—it cripples researchers.
Digital Grab: Corporate Power Has Seized the Internet If your daily routine took you from one homegrown organic garden to another, bypassing vast fields choked with pesticides, you might feel pretty good about the current state of agriculture.
Survey: 48% of US Christians Believe Jesus Is Coming Back in Next 40 Years A Pew Research Center survey reveals that almost half of Christians in the U.S. believe Jesus will be back soon.
Could A Win On Marriage Weaken LGBT Organizations? If same-sex couples secure a victory on marriage equality, it will have come largely from years of work from a cadre of LGBT activists.
There Isn't a 'Right Time' to Strike Down DOMA By arguing that the public may not be ready for a sweeping ruling, SCOTUS could be setting a dangerous precedent.
Wait, before you go…
If you're reading this, you probably already know that non-profit, independent journalism is under threat worldwide. Independent news sites are overshadowed by larger heavily funded mainstream media that inundate us with hype and noise that barely scratch the surface.  We believe that our readers deserve to know the full story. Truthdig writers bravely dig beneath the headlines to give you thought-provoking, investigative reporting and analysis that tells you what's really happening and who's rolling up their sleeves to do something about it.
Like you, we believe a well-informed public that doesn't have blind faith in the status quo can help change the world. Your contribution of as little as $5 monthly or $35 annually will make you a groundbreaking member and lays the foundation of our work.
Support Truthdig