Sep 8, 2015
On Israel's Plans to Tear Down 13,000 Palestinian Buildings
Tearing down Palestinian buildings is one way that Israel constrains the Palestinian economy and encourages Palestinians to leave their homeland, in a kind of slow-motion ethnic cleansing.
This post originally ran on Juan Cole's website.
The UN Office for the Coordination of Humanitarian Affairs (OCHA) has produced a report [pdf] in which it finds that
"Official data released by the Israeli authorities indicate that over 11,000 demolition orders – affecting an estimated 13,000 Palestinian- owned structures, including homes -are currently 'outstanding' in Area C of the West Bank. These orders heighten the vulnerability of thousands of poor Palestinian households, some of whom are at imminent risk of forcible displacement."
Area C of the Israeli-Occupied Palestinian West Bank comprises some 60% of the territory, in which about 300,000 Palestinians live.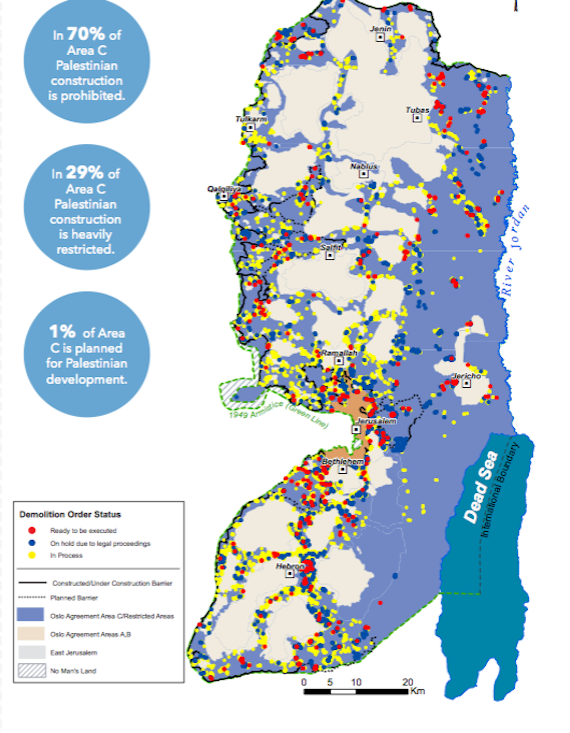 Tearing down Palestinian buildings is one way Israel constrains Palestinian life and economy, and encourages Palestinians to leave their homeland, in a kind of slow-motion ethnic cleansing.
In contrast, about 356,000 Israeli squatters live illegally in Area C, in about 100 squatter settlements. The 4th Geneva Convention of 1949 forbids occupying powers from transferring their citizens into occupied territories. The land on which the Israeli squatters live was stolen from Palestinian owners. While homes and buildings are routinely constructed by the Israeli squatters on these usurped tracts, Palestinians are forbidden to build, in their own homeland. This discrimination against the Palestinians has shrunk their GDP or economy by about a third from what it would be if businesses and homes could be freely constructed.
In accordance with the Oslo Peace Accords of the early 1990s, Area C should have been turned over to Palestinian administration a decade and a half ago. Instead, it has been ruled as the last outpost of colonialism, not for the benefit of its indigenous inhabitants, but for that of foreign squatters, 15% of them Americans.
The UN observes that Israeli authorities treat Israeli squatter settlements much better than they do Palestinian villages:
"Israeli authorities are actively involved in allocating this land for development by settlements. For example, between 2002 and 2015 the Israeli authorities issued tenders on public land for the construction of 12,639 housing units in settlements, including 2,359 in 2014 alone, the largest such figure during this period. 16 There is no similar process applied for the development of housing in Area C for the Palestinian population."
The report implies that demolition orders should be taken extremely seriously, since those issued by Israel from the 1980s forward have gradually been implemented. So those 13,000 buildings are likely coming down.
WAIT, BEFORE YOU GO…
If you're reading this, you probably already know that non-profit, independent journalism is under threat worldwide. Independent news sites are overshadowed by larger heavily funded mainstream media that inundate us with hype and noise that barely scratch the surface. We believe that our readers deserve to know the full story. Truthdig writers bravely dig beneath the headlines to give you thought-provoking, investigative reporting and analysis that tells you what's really happening and who's rolling up their sleeves to do something about it.

Like you, we believe a well-informed public that doesn't have blind faith in the status quo can help change the world. Your contribution of as little as $5 monthly or $35 annually will make you a groundbreaking member and lays the foundation of our work.
SUPPORT TRUTHDIG