Ear to the Ground
Sep 14, 2009
NFL Players Give Away Their Brains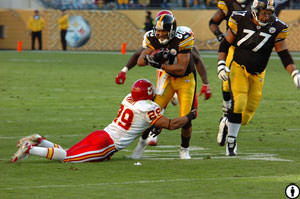 Recent autopsies on the brains of former football players showed that concussions cause a lot more brain damage than previously suspected. To contribute to a better understanding of the problem, three current and 40 retired NFL players have agreed to donate their brains to a program at Boston University. — PS
AP via Yahoo:

The donations by Matt Birk of the Baltimore Ravens, Lofa Tatupu (LOH'-fuh tah-TOO'-poo) of the Seattle Seahawks and Sean Morey of the Arizona Cardinals were announced Monday. Morey says his donation will help improve the safety of retired and future athletes.

The players' brains and spinal cord tissue will go to the Center for the Study of Traumatic Encephalopathy so researchers can better understand the effects of concussions. More than 150 former athletes, including 40 retired NFL players, already are in the program's brain donation registry.
Wait, before you go…
If you're reading this, you probably already know that non-profit, independent journalism is under threat worldwide. Independent news sites are overshadowed by larger heavily funded mainstream media that inundate us with hype and noise that barely scratch the surface.  We believe that our readers deserve to know the full story. Truthdig writers bravely dig beneath the headlines to give you thought-provoking, investigative reporting and analysis that tells you what's really happening and who's rolling up their sleeves to do something about it.
Like you, we believe a well-informed public that doesn't have blind faith in the status quo can help change the world. Your contribution of as little as $5 monthly or $35 annually will make you a groundbreaking member and lays the foundation of our work.
Support Truthdig