May 10, 2018
Judge Faces Recall Vote Over Light Sentence in Sexual Assault
Aaron Persky, who gave a short sentence to a college athlete, is at the center of a public disagreement involving law professors.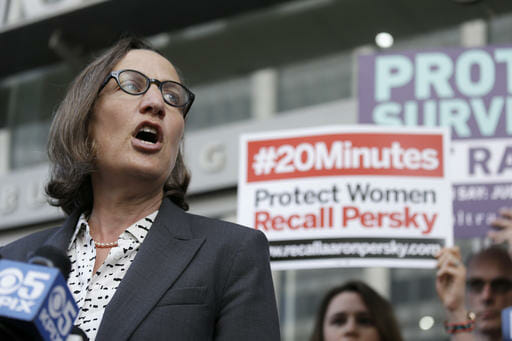 Aaron Persky, the judge who ruled in one of the most controversial and publicized sexual assault cases in recent American history, raised eyebrows this week over a comment he made that compared the case to the historic Brown v. Board of Education, which held that segregation in schools was unconstitutional.
Persky, who is facing a June recall vote for what critics said was a shamefully short sentence in the trial of Brock Turner, had the option to sentence the college athlete to a maximum of 14 years in prison but chose to give the convicted felon just six months instead. Turner was released after only three months. A change.org petition to recall Persky received over 1 million signatures. Persky told reporters at a press conference in Palo Alto, Calif., that removing him from his post would weaken the justice system.
"Brown v. Board of Education was unpopular in many states," he said at the press conference. "Imagine for a moment if those federal judges had been faced with judicial recall in the face of that unpopularity."
"We ask judges to follow the rule of law, not the rule of public opinion," he added.
Buzzfeed reports:
Persky faced national criticism in response to his 2016 decision to sentence Turner to six months in jail for three counts of felony sexual assault. Turner, who was convicted of sexually assaulting another student while she was unconscious, served three months of the sentence.

The perceived leniency of the sentence sparked outrage and debate over sexual assault. It became national news after Buzzfeed News published the letter Turner's victim read aloud in court.

Stanford Law School Professor Michele Dauber is leading the recall effort because, she said, Persky has exhibited "a long pattern of bias in favor of privileged men."
Dauber said Persky "has repeatedly abused his discretion on behalf of abusers. As a result, voters in this county have lost confidence in his ability to be fair."
"In Brown, the Supreme Court bravely ruled with the powerless against the powerful," she added. "In Brock Turner's case, Persky did the exact opposite."
If Persky is recalled, it will be the first time in 86 years that such a removal has occurred in California. Voters will decide June 5 whether or not Persky stays in his position.
Persky does have some defenders within the legal community. Margaret Russell, a law professor at Santa Clara University, told CBS News that "there's absolutely no evidence that he has engaged in misconduct." Russell, along with 94 other legal scholars, issued a statement arguing that recalls "must be limited to cases where judges are corrupt or incompetent or exhibit bias," which they do not believe applies to Persky.
Dauber strongly disagrees. She told CBS News, "The judges in California, under our Constitution, are accountable to the voters they serve." She has referenced several other occasions when Persky handed lenient sentences to male college athletes accused of sexual assault and violent behavior toward women.
CBS News continues:
She and other recall organizers argue that Persky treated the victim's sexual assault too lightly and appeared overly concerned with the effect of the case on Turner, an athlete on scholarship who had a promising swimming career ahead.

They argued that Persky exemplifies the criminal justice system's mistreatment of sexual assault victims. Dozens of elected officials across the country have endorsed the recall effort, including New York Democratic Sen. Kirsten Gillibrand.

"No one should be subjected to sexual assault or harassment. And when it occurs, and victims come forward, the justice system must treat them fairly and with respect and dignity," Gillibrand said in a statement. "Judge Persky did not do that and should be held accountable."
In Judge Persky's tone-deaf interview he fails to express concern for Emily Doe, stands by his sentence for #BrockTurner, and portrays himself as the victim. "you have to ask yourself, am I really the face of rape culture?"

uh, yes.

VOTE YES JUNE 5!https://t.co/qCetuNZw4h

— Michele Dauber (@mldauber) April 20, 2018
Wait, before you go…
If you're reading this, you probably already know that non-profit, independent journalism is under threat worldwide. Independent news sites are overshadowed by larger heavily funded mainstream media that inundate us with hype and noise that barely scratch the surface. We believe that our readers deserve to know the full story. Truthdig writers bravely dig beneath the headlines to give you thought-provoking, investigative reporting and analysis that tells you what's really happening and who's rolling up their sleeves to do something about it.
Like you, we believe a well-informed public that doesn't have blind faith in the status quo can help change the world. Your contribution of as little as $5 monthly or $35 annually will make you a groundbreaking member and lays the foundation of our work.
Support Truthdig