Jul 11, 2012
Job by Job
The effort to reduce unemployment is a grueling plant-by-plant, job-by-job process conducted by those seeking work, business people and local officials operating far from the media spotlight and simplistic rhetoric of the political campaign.The effort to reduce unemployment is a grueling plant-by-plant, job-by-job process conducted by people operating far from the simplistic rhetoric of the political campaign.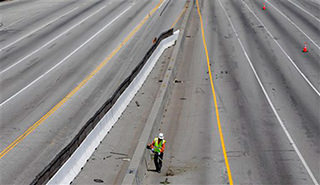 The effort to reduce unemployment is a grueling plant-by-plant, job-by-job process conducted by those seeking work, business people and local officials operating far from the media spotlight and simplistic rhetoric of the political campaign.
Progress is measured in what amounts to inches — a job gained or a small plant coming to town. A manufacturer of campers for heavy trucks keeping up with trends by producing travel trailers light enough to be towed by small SUVs is a move that could save and even add jobs, but it's not a story hot enough for cable TV and that medium's obsession with the latest political chatter. Yet these small stories give a more realistic look at the difficulty of dropping the national unemployment rate below its present 8.2 percent.
The Antelope Valley is a suburban area north of Los Angeles on the western tip of the Mojave Desert. The area, where the demographics are remarkably similar to portions of the Midwest, has been hit by all aspects of the Great Recession. The aerospace industry, which once provided a wealth of jobs, has dwindled. The housing bust forced families out of foreclosed homes, sometimes into homelessness. All this struck with devastating financial and psychological suddenness in a place that tends to be conservative, and where evangelical Christians have a strong presence among people unprepared for such a blow.
"I have lived through recessions before, but nothing like this," said Vern Lawson, economic development director of the area's largest city, Lancaster. I had stopped by the city hall to find out what it was doing about unemployment. Lancaster, a city of 156,000, has an unemployment rate of slightly more than 15 percent, according to the U.S Bureau of Labor Statistics. That's down from 20 percent in 2010.
"I think we hit bottom and are coming back," Lawson said. In a grim sense, the collapse of the residential housing market has helped. Houses are more affordable now, either for purchase or rent, and workers can earn a lower wage and still "have a very nice home," Lawson said.
This is an area where Lockheed once employed more than 18,000, currently down to about 6,500. Now Lawson, City Manager Mark Bozigian, Mayor R. Rex Parris and other officials considered it a huge victory that Morton Manufacturing, which makes bolts for aircraft engines, moved to Lancaster from another suburb after the city found land for a bigger plant. It will employ 300, and support 1,200 more jobs from suppliers and businesses patronized by the workers. To orchestrate the move, Lawson had to visit Morton often, work with property owners and real estate agents to assemble the land, get the City Council to build roads, and be available 24 hours a day in case something went wrong.
In a place where engineers, pilots and workers on the line sent vehicles of incredible technological complexity into space, the city now cheers a development those air warriors would have hardly noticed — the decision of the Lance Camper Manufacturing Corp. to diversify from bulky truck campers to light camping trailers that young people can tow with their gas efficient autos and small SUVs. Jobs will be saved and potentially the workforce will grow.
Still, joblessness and poverty remain. The Grace Resource Center in Lancaster serves 10,000 impoverished people a month, supplying them with food, temporary shelter for the homeless, medical care and classes in computers. Steve Baker, the executive director, said Grace has had the same experience as other charities: Former donors now broke, coming in for help. "People have been laid off," Baker said. "They owned homes but they refinanced them with liar's loans." Others, he said, come in for food "because they can't live on Social Security."
I came away admiring Lancaster's grit but knowing something more is needed to pull the country out of the recession. The federal government, struggling to find a cure that won't be vetoed by obstructionist Republicans in Congress, must step in with more big public works construction to put large numbers of people to work.
Actually, something like this has happened, although the news media have not paid much attention. Despite the House Republicans, who try to block every effort of President Barack Obama to pump up the lagging economy, Congress recently managed to pass and the president signed a massive highway transportation bill that will provide hundreds of thousands of construction jobs in the United States. Credit goes to Democratic Sen. Barbara Boxer of California, who heads the Senate Environment and Public Works Committee and was chair of the conference committee that wrote the final bill. The veteran senator understood that anti-government ideology fades when a member of Congress has a chance to bring home money for badly needed and job-producing rail lines and highway improvements.
In the Los Angeles area, a provision allowing the local transportation authorities to borrow from the federal government, to be repaid by a previously approved transit tax, will get some projects moving quickly. If you count construction work, suppliers, subcontractors and businesses patronized by workers, more than 250,000 jobs will be created in the next several years. More commuter rail lines will be built and freeways widened and modernized. "A game changer," said Los Angeles Mayor Antonio Villaraigosa.
But the game won't be changed for most of the country unless the federal government does much more. When Franklin D. Roosevelt pulled back from pump-priming measures in 1937, recovery from the Depression stopped, only to revive with preparations for World War II.
Mitt Romney and the rest of the Republicans oppose such federal intervention. Their program is simple: Cut taxes for the rich and wipe out most regulation of business.
As history shows, that doesn't work. Whether it is the City Council in conservative Lancaster providing roads for the new Morton Manufacturing plant or the federal government building bridges, highways and rail lines across the United States, unemployment won't be reduced without help from the government, no matter how distasteful that idea is to the Republicans.
Wait, before you go…
If you're reading this, you probably already know that non-profit, independent journalism is under threat worldwide. Independent news sites are overshadowed by larger heavily funded mainstream media that inundate us with hype and noise that barely scratch the surface. We believe that our readers deserve to know the full story. Truthdig writers bravely dig beneath the headlines to give you thought-provoking, investigative reporting and analysis that tells you what's really happening and who's rolling up their sleeves to do something about it.
Like you, we believe a well-informed public that doesn't have blind faith in the status quo can help change the world. Your contribution of as little as $5 monthly or $35 annually will make you a groundbreaking member and lays the foundation of our work.
Support Truthdig