Sep 1, 2014
Israelis Alarmed as al-Qaida Captures Golan Checkpoint, U.N. Peacekeepers
Israel now has a border with al-Qaida!
This post originally ran on Juan Cole's Web page.
Israel now has a border with al-Qaida!
Israeli observers have been alarmed by the capture of the Quneitra checkpoint between Syria and the Israeli-Occupied Golan Heights by the al-Qaida affiliate, the Succor Front (Jabhat al-Nusra). The Succor Front has also captured 44 Fijian U.N. peacekeeping troops and has surrounded some 75 UN troops from the Philippines. A few days ago, mortars were fired from Syrian Golan into Israeli-Occupied Golan, injuring an officer and a civilian.
The London-based Al-`Arabi al-Jadid reports that Israeli Gen. Aviv Kochavi, now head of the Northern Command but until recently chief of military intelligence, has for two years been warning that the Syrian civil war could spill over onto Israel.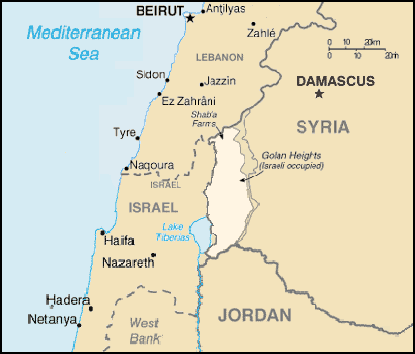 Haaretz has also shown alarm at the developments. Not only is the Succor Front consolidating its hold on Golan, but the so-called Islamic State of Iraq and the Levant (ISIL or ISIS) is alleged to be infiltrating Syrian villages near Israel in the north. The Syrian army, once responsible for Israel-Syria border security, has "evaporated" after losing battles with the militants.
The likelihood that Israel could in the long run be completely insulated from a raging civil war right next door, which has displaced 3 million abroad and more millions internally, was always low. The view that it is good for Israel when the Arabs fight one another is a glib and superficial piece of cynicism challenged by seasoned observers such as Gen. Kochavi.
With ISIL now having taken the Tabqa military base in Raqqa, executing dozens of Syrian troops, the Eastern strategy whereby it avoided directly fighting the regime in Damascus may be coming to an end. An epic struggle between the radical Salafi rebels and the Baath regime is on the horizon. The fate of all of Syria's neighbors will be affected by its outcome.
—–
Related video:
Wait, before you go…
If you're reading this, you probably already know that non-profit, independent journalism is under threat worldwide. Independent news sites are overshadowed by larger heavily funded mainstream media that inundate us with hype and noise that barely scratch the surface. We believe that our readers deserve to know the full story. Truthdig writers bravely dig beneath the headlines to give you thought-provoking, investigative reporting and analysis that tells you what's really happening and who's rolling up their sleeves to do something about it.
Like you, we believe a well-informed public that doesn't have blind faith in the status quo can help change the world. Your contribution of as little as $5 monthly or $35 annually will make you a groundbreaking member and lays the foundation of our work.
Support Truthdig