Feb 19, 2009
Health Care Reform Can't Wait
The national health care crisis, intensified by the recession, is so bad that nothing can be permitted to stop reform of the system, not even the implosion of the president's health czar.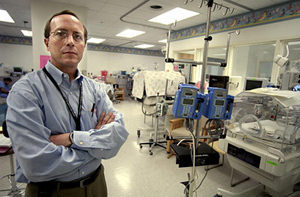 Who needs Tom Daschle? The national health care crisis, intensified by the recession, is so bad that nothing can be permitted to stop reform of the system, not even the implosion of the former Senate Democratic leader. Daschle, remember, was paid big speaking fees by the health business before President Barack Obama chose him to lead the health reform fight.
After losing his South Dakota seat in 2004, Daschle began a lucrative career based on his connections. He was an important early Obama supporter. He knew the Senate and understood the health care issue. But early this month he withdrew as Obama's nominee for secretary of health and human services. He had failed to pay taxes on a car and driver provided him by the founder of a private equity firm where he worked as a high-priced consultant. The position had brought him, according to Politico, more than $2 million in fees. Politico also reported that Daschle received more than $200,000 for speeches to health care industry groups that will be affected by health care legislation.
Daschle paid more than $100,000 in back taxes for use of the car, but not soon enough to save his nomination.
That's the way it works for financially ambitious officials who feel impoverished by the limitations of public service. After leaving the Clinton White House and before his election to Congress, Obama Chief of Staff Rahm Emanuel made $16.2 million as an investment banker, according to The New York Times. And Richard Holbrooke, a former high-level diplomat, was vice chairman of an investment firm before becoming Obama's special representative for Pakistan and Afghanistan. Jodi Kantor of the Times reported Holbrooke had "what friends say was a relatively undemanding job and lavish compensation."
Daschle's entrance into this privileged world would have passed hardly noticed if tax troubles of other Obama appointees had not made the news.
And there was the opaque role of an old Daschle foe, Sen. Max Baucus of Montana, chairman of the Senate Finance Committee. His committee was screening Daschle's nomination, and though Baucus eventually said something supportive about his old colleague, it took him a couple of days to do it.
Baucus' slow reaction wasn't surprising, considering his relationship with Daschle, as described by Senate Majority Leader Harry Reid of Nevada in his book "The Good Fight." Reid wrote that "Baucus was the only Westerner to vote against Daschle in his race for Democratic leader in 1994, which Daschle had only won by a single vote, and they had been driven farther apart on the issue of taxes. … [T]hey really couldn't stand each other. …"
The Finance Committee will shape the health reform legislation in the Senate. Now Baucus, along with Sen. Edward Kennedy, will determine its fate. Baucus has proposed a combination public-private health plan along the lines of Obama's.
Baucus said he doesn't think Daschle's absence will hurt health care reform. "I don't think it sets it back very much at all," he told NPR. "Tom Daschle is a terrific fellow. He knows more about health care than anyone else. But there is such momentum now for health care reform. The stars seemed so aligned." (In politics, it should be explained, everyone is "a fine fellow" or "my good friend," no matter how much dislike might exist.)
But what kind of health plan will emerge?
The best health reform would be something along the lines of Medicare, an excellent program for those over 65 in which doctors bill the government. We should have Medicare for everybody, administered by the government and without insurance companies involved. Anyone on Medicare will tell you how well it works.
It is, pure and simple, government health insurance. Advocates call it "single payer" in an effort to defang critics of government involvement. But the "single payer" is the government, supported by our tax dollars. It's simple, it works — and we're probably years away from it.
I talked about this with Dr. Len Nichols, health policy director for the New American Foundation, who has been involved in every recent effort to fix the health system, including the unsuccessful Clinton health initiative of 1993-94. "I want a bill passed," he said. But he conceded the lobbying power of the insurance companies, which will fight any move to keep them out of the system. "We can't get from here to there without the private insurers," he said.
Nichols has been working with Sen. Ron Wyden, a liberal Democrat from Oregon who has a plan that would take employers out of the health insurance mix. You'd buy coverage from state and regional insurance pools. Insurance companies would compete for business in the pools. Insurers would have to cover everybody. Everybody would be required to be insured, with full and partial subsidies for the low-income and the unemployed.
This is just one proposal in the mix, but it seems to have more legs than most of the others because Wyden's co-author is a conservative Republican, Bob Bennett of Utah. Seven other Republicans have joined Bennett as co-sponsors of the bill. Seven Democrats have signed up with Wyden.
Nobody knows what will come out of this. But with more people losing their jobs every day — and their health insurance — fear is spreading through the land. The many interests vested in the present system will fight to prevent change.
But logic leans toward the sentiments of Sen. Baucus and Rep. Henry Waxman, D-Calif., whose House Energy and Commerce Committee will also have a major role in drafting the legislation. "We need to get this job accomplished this year and get the bill to the president," Waxman told Families USA, a liberal health reform group.
Health care reform is what Obama promised during the campaign. He made the pledge with increasing emotion as the recession worsened during the fall.
Despite the need, it won't be easy. The ease with which Daschle moved from his position as a Senate health care reformer to a paid speechmaker for health business groups shows how deep this industry's tentacles extend and how high they reach.
'TIS THE REASON…
You know the story. Independent journalism is under threat and overshadowed by heavily funded mainstream media. During this holiday season, you can help level the playing field. Become a member.

Your tax-deductible contribution keeps us digging beneath the headlines to give you thought-provoking, investigative reporting and analysis that unearth what's really happening- without compromise. Give today to support our courageous, independent journalists.

As always, we wish you truth, reason and the best of the season!
SUPPORT TRUTHDIG