Aug 4, 2013
GOP Rep. Tells Fox News: Edward Snowden Is a 'Whistle-Blower'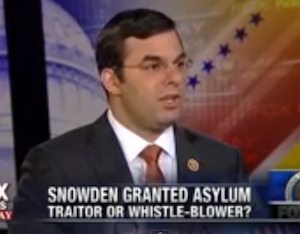 Although some in Congress have called Edward Snowden a "traitor" or accused him of treason, one elected representative is coming to the self-admitted NSA leaker's defense.
When asked by "Fox News Sunday" host Chris Wallace whether he thought Snowden was a whistle-blower, Rep. Justin Amash, R-Mich., responded in the affirmative.
"Members of Congress were not really aware on the whole about what these programs were being used for and the extent to which they were being used. Members of the intelligence committee were told, but rank-and-file members really didn't have the information," explained Amash, a prominent NSA critic who was a recent Truthdigger of the Week.
He told Wallace that Snowden "may be doing things overseas that we'd find problematic, that we'd find dangerous. … We'll find those facts out over time. But as far as Congress is concerned, sure, he's a whistle-blower. He told us what we need to know."
— Posted by Tracy Bloom.
Wait, before you go…
If you're reading this, you probably already know that non-profit, independent journalism is under threat worldwide. Independent news sites are overshadowed by larger heavily funded mainstream media that inundate us with hype and noise that barely scratch the surface.  We believe that our readers deserve to know the full story. Truthdig writers bravely dig beneath the headlines to give you thought-provoking, investigative reporting and analysis that tells you what's really happening and who's rolling up their sleeves to do something about it.
Like you, we believe a well-informed public that doesn't have blind faith in the status quo can help change the world. Your contribution of as little as $5 monthly or $35 annually will make you a groundbreaking member and lays the foundation of our work.
Support Truthdig