Nov 15, 2010
G-20 Plagued by Timidity
The potentially explosive G-20 meeting in Seoul was smothered before anything spectacular could happen.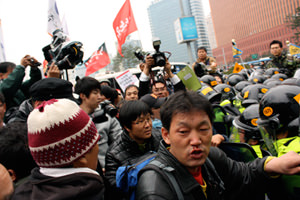 SEOUL, South Korea — The first trouble at Seoul's G-20 summit came on the opening morning. A woman showed up at the main building's entrance shouting obscenities about the South Korean government and doused herself in flammable paint thinner. Before she could set herself ablaze, she was subdued by security officials and dragged away. She was unaware that she would later be a metaphor for the entire summit: potentially explosive, but smothered before anything spectacular could happen.
South Korea took great pride in being the first non-G-8 and first Asian country to host a G-20 Summit. Officials hoped the event would confirm South Korea's ascension to the elite club of global economic powers.
"What the chairing of the G-20 gives us is the self-confidence that not only are we better off, but we are a part of a community that is responsible for leading the global community. Our voices are heard informing global policies, and that is a big responsibility that we've never had before. It really shows us that we can move on now to the next level in terms of how the world will see us," G-20/South Korean spokesperson Sohn Jie-ae said in an interview.
The agenda for the summit was ambitious, mainly to find a post-crisis development model and prevent a trade war from breaking out over currency valuations.
The South Korean government was nervous about making everything just right for its well-heeled visitors. In trying to go the extra mile, one is liable to go too far. The summit brought an unprecedented level of security to Seoul. The main meeting site was the Coex complex, in the affluent south of the capital. The area around Coex was locked down. A 7-foot fence was built around the site, manholes were sealed,and about 50,000 police officers were dispatched. Protests anywhere near the meetings were banned.
Protesters who made it to the meeting area were removed. A couple of blocks from where world leaders met, student Han Dae-gi and two companions came to protest being removed from their homes by Daemyung Construction. Their case is common in Seoul: lower-income housing bought up by developers who force out occupants with little or no compensation.
Police told them the area was off-limits and they would need to get on the subway and go to another part of the city. Han told me, "They don't want to hear our voices."
With the meeting complex inaccessible to them, protesters moved to the square outside the Seoul train station, in the city's north.
On a gloomy Thursday afternoon, labor activists from around the world gave speeches and led chants opposing the G-20. They called for a financial transaction tax, stricter financial sector regulation and government job-creation programs.
"We need to look at who really caused the economic crisis and not put the burden on regular people," said Ryu Mi-kyung of the Korean Confederation of Trade Unions, the protest's main organizing body.
Fighting with police is a pastime of South Korean activists. A special security law was passed in South Korea's National Assembly specifically for the G-20. Among its measures was a ban on marches. Labor and civic groups got permission to stage a protest on the day of the G-20 but were told they would not be allowed to march. By the rally's conclusion, riot police had formed a human barrier around the venue. After some scuffles, protesters broke through and marched en masse through the city. A mock coffin was burned in the street.
The summit was short on the diplomatic achievements some had hoped for. The United States and South Korea were unable to secure a free trade agreement. According to the Seoul Communiqué, the document issued at the meeting's conclusion, member states "will move toward more market-determined exchange rate systems and enhance exchange rate flexibility to reflect underlying economic fundamentals and refrain from competitive devaluation of currencies."
That being said, no concrete steps were taken to prevent "competitive devaluations" — a polite term for currency manipulation. The G-20 leaders agreed to fight imbalances in savings and spending but will delay until next year figuring out specifically how to accomplish that.
That same document also describes the Seoul Development Consensus for Shared Growth, a development model that is said to characterize a partnership between advanced and low-income countries that emphasizes trade and infrastructure investment in order for developing countries to grow out of poverty. It is based on the model that led South Korea from scarcity to wealth in 60 years and will probably be the summit's main feat. Its architects hope the Seoul Consensus enters the global economy's nomenclature as a replacement for the Washington version.
At the model's core is a growth-centered model with strong state involvement. South Korean President Lee Myung-bak told reporters, "There will be a broad consensus in Seoul on ways to boost the long-term growth potential in underdeveloped nations and help them stand on their own feet."
It's appropriate that this consensus reflects the city that bears its name: not sexy enough to make big headlines, but diligent and pragmatic.
It will be a while before the accomplishments of the Seoul Consensus are known, but it is clear at this point that this G-20 was plagued by timidity: the South Korean government's anxiety about making a flawless impression and world leaders' fear of political backlashes at home if they yielded too much in negotiations over trade or currency. It's an old story: Politicians bicker while the streets rumble across town. Maybe next time someone will succeed in bringing fire to the summit.
Steven Borowiec is a writer living in South Korea. He blogs here.
Wait, before you go…
If you're reading this, you probably already know that non-profit, independent journalism is under threat worldwide. Independent news sites are overshadowed by larger heavily funded mainstream media that inundate us with hype and noise that barely scratch the surface. We believe that our readers deserve to know the full story. Truthdig writers bravely dig beneath the headlines to give you thought-provoking, investigative reporting and analysis that tells you what's really happening and who's rolling up their sleeves to do something about it.
Like you, we believe a well-informed public that doesn't have blind faith in the status quo can help change the world. Your contribution of as little as $5 monthly or $35 annually will make you a groundbreaking member and lays the foundation of our work.
Support Truthdig