Apr 30, 2014
Dustin Lance Black Speaks: Pasadena City College Officials Created 'Toxic and Dishonest' Atmosphere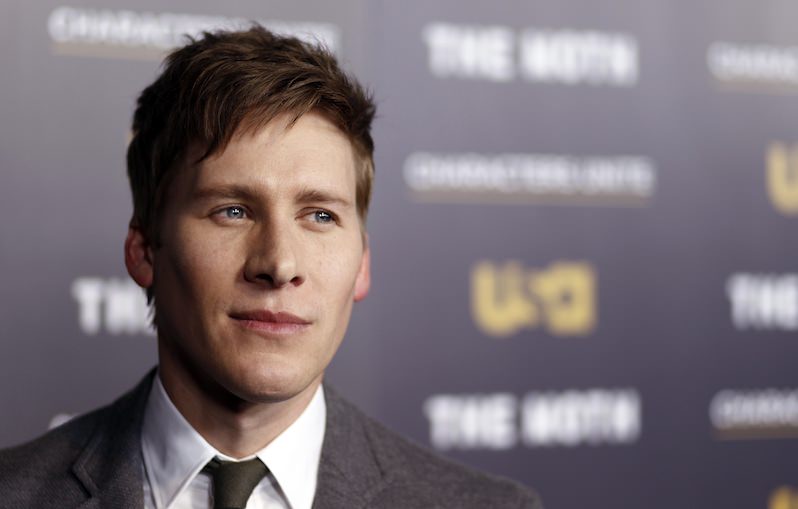 The president and board of trustees at Pasadena City College thrust their school into the spotlight for all the wrong reasons recently with a political and public relations debacle involving PCC alumnus and Oscar-winning screenwriter Dustin Lance Black.
A regrettable concoction of bad decisions, questionable motives and botched communications began trickling down from PCC's upper ranks last month, when a student trustee designated by school officials to contact Black invited the "Milk" scribe to be this year's commencement speaker. But after key figures in the administration — notably PCC Superintendent-President Dr. Mark Rocha, Assistant Superintendent Robert Bell and board of trustees President Anthony Fellow — became aware of a gossip exposé from 2009 concerning the unauthorized release of explicit footage of Black engaged in consensual sex with an ex-boyfriend, Black was unceremoniously dropped from the lineup for the May 9 graduation proceedings.
Fellow, according to the PCC Courier, pointed to "sex scandals we've had on campus this year" as justification for disinviting Black. "We just didn't want to give PCC a bad name," he added. Other implicated representatives suggested that Black hadn't been formally asked to give this year's crop of graduates their sendoff, but Student Trustee Simon Fraser insisted that he had followed protocol and that all required parties were aware of the overture.
By noon Tuesday, it seemed Black's replacement, city of Pasadena Public Health Department Director Dr. Eric Walsh, had pulled out of the ceremony as well, citing "an unforeseen scheduling conflict." But not before Black, as well as concerned students, did their research on Walsh's own background as a Seventh-day Adventist preacher with some very particular views on evolution and homosexuality that would seem to complicate his professional functions as a physician and as a onetime member of the Presidential Advisory Council on HIV/AIDS. His take on Batman (emblematic of "Luciferianism"), Superwoman (she "lives on an island where there are no men") and Disney ("a dark empire … full of witchcraft") might also knit some brows among newly trained products of PCC's Cinema Program, but that's another matter entirely.
It all adds up to an unenviable mess for PCC's top brass to sort out, regarding one dismayed Class of '94 graduate-turned-Hollywood-success-story; outraged and organized students and faculty members; an incriminating email trail from board members that belies the official explanation they issued as a governing body; troubling whiffs of institutionalized homophobia; the kind of media coverage that contemporary centers of higher learning strain to avoid at all costs; and a conspicuous void in the commencement program nine days before the big event.
And the dispute isn't over for Black, who remains supportive of his alma mater and its students but still awaits a direct apology and a thorough explanation about the actions of Rocha and the board of trustees instead of vague claims about "errors in following procedure." He traced the connections between the instigating events, detailed in this Los Angeles Times piece by Robin Abcarian, read between the lines, and on April 17 he released a statement (posted in full here on Out) in the form of a letter to PCC students, describing how the school's management is "punishing the victim" and asking them to "speak out."
On Tuesday, Black spoke up from his current part-time home in London for an interview with Truthdig.
* * *
Kasia Anderson: Can you bring us up to speed about what's happening now with the graduation invitation debacle and your alma mater?
Dustin Lance Black: Now what's happening is I'm having students from Pasadena City College and reporters starting to send me email exchanges that they had with Dr. Walsh. There's a professor who's sort of the film guy there who's at the head of the board — Anthony Fellow — I've been receiving a lot of letters, correspondence between students and administrators and Dr. Fellow, and, you know, it is blatantly homophobic.
Then today I just became curious about well, who is this person who is speaking [Walsh]? And I felt badly, I thought, well, they didn't ask for this, and what is it that they must be feeling right now? And I'm sort of surprised that they haven't reached out or said anything, and now it's starting to make sense, because there are these speeches online of his — "evolutionists are Satanists" — and there's a speech online where he makes fun of trans people. Then all of a sudden — and this is not a speaker who was approved by the committee that approves speakers — he was picked by Mark Rocha, the president of the school, and Dr. Fellow.
And all of a sudden it has become clearer and clearer why [Walsh] was chosen, and why he hasn't reached out, and it seems that they have a president of a school and a board president who want this to be the message to the PCC campus. It flies in the face of what the students say they want. [The administrators] deny their own proceedings; they've broken their own procedures in order to ensure that this is the person who will be speaking at their commencement. And I start to wonder if that's even legal to even run a school that way.
KA: Lip service was paid to the replacement speaker being dynamic. …
DLB: Yes, and the person who made that comment was Dr. Rocha, I believe.
KA: Does PCC take any ideological positions or adopt any particular ethos you picked up on while you were there?
DLB: I never experienced anything but support and encouragement while I was there. I had such a wonderful time at Pasadena City College. I've always wondered why they never reached out. There was a statement that said, "We've always been proud of Mr. Black" — I think it was in their official statement — and I was like, I've never actually heard a word from you guys.
I was awarded Community College Distinguished Alumni of the year this year, which was very nice, but it had to come from Hartnell College, where I went when I was in high school in Salinas. And there was a table — a Pasadena City College table — there, and I went over and said hi to them. I said, "You do know I went there" — they were completely unaware. They didn't know. Which is probably how the conversation began where they asked me to be a commencement speaker at their school.
But I never experienced anything like this. … It was one of the more shocking moments I've had in a long time — being disinvited. When I found out, literally a reporter emailed me and said, "Are you aware that you're no longer speaker at Pasadena City College commencement?" I had my assistant chase them down and say, "What? We've already booked flights. We've already made travel arrangements." I'm in London — it's not an easy trip or a simple trip to make.
KA: So as it stands you haven't had a follow-up.
DLB: I've not heard anything from any administrator at Pasadena City College. Nothing — no apology, no explanation. They put out that statement explaining that they have a broken system of some sort, but it really doesn't explain the disinvitation. There's no rationale for why not and we still don't have that.
I think it's rather clear if you read those emails [cited in the L.A. Times story]. … My legal team is in talks with their legal team right now. That's happening, because you know, there are damages and costs — that's really just about making sure we're compensated — my team is compensated. Flights are refunded and all that sort of thing.
KA: What does your interest in rectifying this situation have to do with your activism in a broader sense?
DLB: Well, I know exactly what it's like to be a student at Pasadena City College. When I was at Pasadena City College, I was struggling. Financially, my family was in a tough spot and I had to work very hard to be able to pay my rent and keep going to [PCC]. … You need all the support you can get, because for so many students there, the dream is to get into a four-year school. And that's hard work. I was trying to get into UCLA film school, very competitive, and I did.
And what they don't need is — especially the gay and lesbian students there — is to be at an institution where it's so clear there's an atmosphere where the administrators are seeing them somehow inferior or 'less than.' That they are held to a higher standard — a very different standard. I mean, I don't know if it's activism — it's personal. If you see someone drowning, if you see someone in harm's way, I was taught — my mom taught me, the Mormon church taught me — you reach out and help.
And so you know it seems that the atmosphere at Pasadena City College is discriminatory and toxic and dishonest. And I just — I care so much about that school — if you ever ask anybody, I mean I love UCLA, but people would say, "Would you ever do something for a school?" And I've said yeah, but I think it's Pasadena City College that I would make a donation for, do a fundraiser for, help start a school at. It's that place that saved me — it was a safety net for me when I desperately needed it, and it worked.
So I care about it a great deal, and the students so far have been so supportive, and they've been asking for help, they've been saying, "Don't let it go, help us fix our school." So I haven't given up. I think it's the No. 2 in terms of transfers to four-year schools in California. So we should make it better, not let it fall into this sort of disarray.
Every time I think [this story's] over … there's another wrinkle.
* * *
A meeting between Rocha and the board about the commencement controversy was scheduled to take place Wednesday evening. Should the assembled officials decide to take Associated Students President Jordyn Orozco's lead and invite Black back, that action would be supported by several other PCC student and faculty groups, including Students for Social Justice, the Queer Alliance and the Safe Zone Coalition.
Black has also helpfully kept his booking to fly to the States that weekend, but he's made some other important plans for that trip in the meantime: "I'm going to see my mom in Washington, D.C., and go give a speech in Chicago," he said.
A call to Rocha had not been returned by press time.
Wait, before you go…
If you're reading this, you probably already know that non-profit, independent journalism is under threat worldwide. Independent news sites are overshadowed by larger heavily funded mainstream media that inundate us with hype and noise that barely scratch the surface.  We believe that our readers deserve to know the full story. Truthdig writers bravely dig beneath the headlines to give you thought-provoking, investigative reporting and analysis that tells you what's really happening and who's rolling up their sleeves to do something about it.
Like you, we believe a well-informed public that doesn't have blind faith in the status quo can help change the world. Your contribution of as little as $5 monthly or $35 annually will make you a groundbreaking member and lays the foundation of our work.
Support Truthdig