Documentary Claims Obama's Mother Was a 'Porn Star'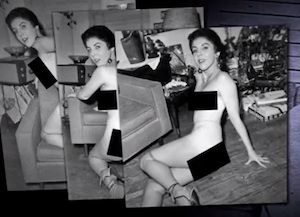 Update: The video from "The Young Turks" segment has been removed from YouTube.
Just when you thought you had heard the craziest Obama conspiracy theory out there, another one magically springs up and challenges to take its place.
According to Current TV's "The Young Turks," a new pseudo-documentary is waging a smear campaign against President Obama's mother, making the outlandish claim that she was once a porn star. But wait, it gets better: The documentary also alleges she was photographed in the nude while she was pregnant with the future president — and there are pictures to prove it.
"Dreams From My Real Father," which is reportedly being mailed out to 1 million voters in swing states across the U.S., also claims that Obama's actual father was an American-born communist poet who indoctrinated his son with Marxist teachings at a young age.
Matt Drudge, get your siren ready!
— Posted by Tracy Bloom.
Assistant Editor
Tracy Bloom left broadcast news to study at USC's Annenberg School for Communication and Journalism. There she eventually became deputy editor of Neon Tommy, the most-trafficked online-only college website in…