Mar 14, 2006
Did the N.Y. Times Misidentify Abu Ghraib Detainee?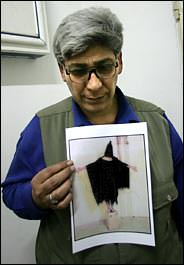 Salon.com presents exclusive evidence that The New York Times incorrectly identified–in a Page 1 story!–the hooded detainee shown in one of the most iconic abuse photos from the notorious Iraqi prison. (Hat tip: Huff Po)
---
March 14, 2006 | WASHINGTON — The New York Times announced Monday night that it would review the accuracy of a recent Page One story that claimed to identify the hooded detainee shown in one of the most iconic photos of abuse from Abu Ghraib, after Salon presented evidence suggesting that the paper had identified the wrong man.
In an apparent scoop on Saturday, the Times reported that Ali Shalal Qaissi, a former Baath Party member, had been photographed standing on a cardboard box, hooded, with his arms spread, a blanket around his shoulders and electrical wires extending from his hands.
Wait, before you go…
If you're reading this, you probably already know that non-profit, independent journalism is under threat worldwide. Independent news sites are overshadowed by larger heavily funded mainstream media that inundate us with hype and noise that barely scratch the surface.  We believe that our readers deserve to know the full story. Truthdig writers bravely dig beneath the headlines to give you thought-provoking, investigative reporting and analysis that tells you what's really happening and who's rolling up their sleeves to do something about it.
Like you, we believe a well-informed public that doesn't have blind faith in the status quo can help change the world. Your contribution of as little as $5 monthly or $35 annually will make you a groundbreaking member and lays the foundation of our work.
Support Truthdig