Aug 26, 2016
Democracy Wins as 'Biggest Gerrymandering Case in a Generation' Moves Forward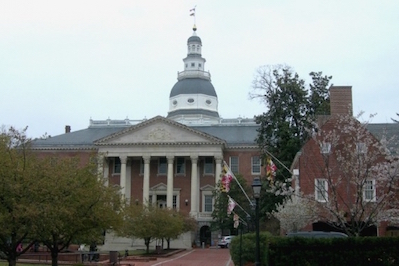 By Deirdre Fulton / Common Dreams
A panel of federal judges on Wednesday advanced what an expert says could be "the biggest gerrymandering case in a generation"—one that could have nationwide implications for elections and democracy across the United States. 
The three-judge court ruled 2-1 (pdf) that the First Amendment-based claim against partisan gerrymandering regarding Maryland's sixth congressional district is valid and may proceed, either to summary judgment or trial. The ruling has no bearing on voting this November, and a decision would apply only to future elections.
The case, brought by American University law student Steve Shapiro, argues that Maryland's congressional district map, drawn by Democratic lawmakers following the 2010 Census, violated the rights of 6th District Republican voters to political association and expression.
But as the case has the potential to set a national precedent restricting partisan gerrymandering, its moving forward is "excellent news for both Democrats and democracy because of how widespread Republican gerrymandering is nationwide," Daily Kos contributing editor Stephen Wolf wrote Wednesday.
Indeed, the Washington Post reported:
Michael Kimberly, Shapiro's attorney, said that if his client prevails at trial, and the case ends up back in the Supreme Court, it could eventually bring sweeping changes to redistricting across the country.

"This could be the biggest gerrymandering case in a generation," Kimberly said. "It could have enormous impact."
As North Carolina's News & Observer wrote earlier this month:
Opinions by U.S. Supreme Court justices, Ruth Bader Ginsburg and Anthony Kennedy in particular, have suggested that they believe partisan gerrymandering is a problem, [Common Cause North Carolina executive director Bob] Phillips said.

"Partisanship might be the next frontier for redistricting cases," said Wendy Underhill, director of the Elections and Redistricting Program for the National Conference of State Legislatures.
Of the prospect of a Supreme Court decision in the Maryland case, Wolf wrote: "Such a ruling could have enormous effects, since 55 percent of congressional districts are currently drawn to favor Republicans while just 10 percent were designed for Democrats—particularly when the current partisan and institutional balance of power significantly constrains anti-gerrymandering efforts at the legislative level."
Karen Hobart Flynn, president of the pro-democracy group Common Cause, noted in an op-ed earlier this month that "gerrymandering pits political power against the people, regardless of which party holds power."
On Wednesday, in response to the judges' ruling, Hobart Flynn added: "Today's decision is another victory for voters and their right to choose their legislators rather than allowing legislators to choose their voters. Partisan gerrymanders strip citizens of the ability to elect the candidates of their choice and that is why Common Cause is fighting this gerrymander by Democrats in Maryland and why we have brought suit challenging a blatant partisan gerrymander perpetrated by Republicans in North Carolina."
The North Carolina lawsuit was brought by Common Cause in early August. It argues that the legislature's gerrymander is a clear violation of the Equal Protection Clause of the 14th Amendment.
"What is at stake is whether politicians have the power to manipulate voting maps to unjustly insulate themselves from accountability, or whether voters have the fundamental right as Americans to choose their representatives in fair and open elections," Phillips said upon filing suit. "We believe this is a vital case that could strike at the very foundation of gerrymandering."
Deirdre Fulton is a staff writer at Common Dreams.
Wait, before you go…
If you're reading this, you probably already know that non-profit, independent journalism is under threat worldwide. Independent news sites are overshadowed by larger heavily funded mainstream media that inundate us with hype and noise that barely scratch the surface.  We believe that our readers deserve to know the full story. Truthdig writers bravely dig beneath the headlines to give you thought-provoking, investigative reporting and analysis that tells you what's really happening and who's rolling up their sleeves to do something about it.
Like you, we believe a well-informed public that doesn't have blind faith in the status quo can help change the world. Your contribution of as little as $5 monthly or $35 annually will make you a groundbreaking member and lays the foundation of our work.
Support Truthdig