Sep 10, 2018
Could This Unknown Academic Help Break Up Amazon?
Lina Khan has devoted her career to antitrust law, and her most innovative proposals are starting to gain traction.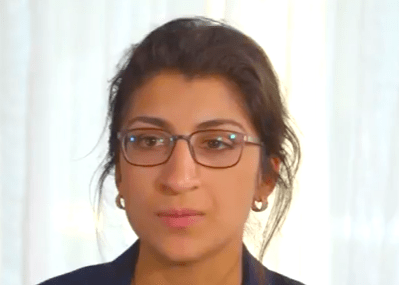 No one can accuse Bernie Sanders of not knowing his audience. Last week, alongside Rep. Ro Khanna, D-Calif., the Vermont senator unveiled the Stop Bad Employers by Zeroing Out Subsidies Act, better known as Stop BEZOS—an ambitious piece of legislation that aims, in its sponsors' words, to kick billionaires off federal welfare.
With an unabashedly corporatist Republican Party in control of Congress and the White House, the bill is all but dead on arrival. Still, it nonetheless represents a bold if imperfect attempt to rein in runaway corporate power, a trend perhaps best exemplified by the recent trillion-dollar valuation of Amazon.
Until recently, legislators have largely overlooked the anti-competitive tendencies of the online retailer, at least in part due to its competitive pricing. Enter Lina Khan, an obscure law student who, in the words of The New York Times' David Streitfeld, aims to "reframe decades of monopoly law."
Khan first captured the legal community's attention, if not its imagination, last year with "Amazon's Antitrust Paradox"—a 93-page treatise in the Yale Law Journal that earned 146,255 hits, or citations. The paper's thesis was simple: Amazon's influence over the U.S. economy has far outpaced its market share. In this way, she contends, Amazon CEO Jeff Bezos has come to resemble John D. Rockefeller, who presided over the greatest oil monopoly the country has ever known.
"The issue Ms. Khan's article really brought to the fore is this," Streitfeld writes. "Do we trust Amazon, or any large company, to create our future?"
More than a year after its publication, the paper continues to reverberate across American academia. At the University of Pennsylvania Law School, antitrust expert Herbert Hovenkamp has written that breaking up corporations like Amazon would "quickly drive the economy back into the Stone Age, imposing hysterical costs on everyone." Konstantin Medvedovsky, an antitrust lawyer in New York, has called Khan's thesis "antitrust hipsterism," as though trustbusting were a charming practice of yore.
Perhaps more tellingly, Khan's research has earned the dismissal of Timothy Muris and Jonathan Nuechterlein, who served as Federal Trade Commission chairman and general counsel respectively. In June, the pair challenged Khan's findings in a paper for the Social Science Research Network, arguing that Amazon has "added hundreds of billions of dollars of value to the U.S. economy" and that its innovations have provided "great benefit [to] consumers."
Amazon couldn't have asked for a more favorable analysis, and perhaps it didn't. As the Times notes, both Muris and Nuechterlein acknowledge that they sought funding from the corporation for their research, and that they have advised Amazon on "a variety of antitrust issues."
But Khan's work has also caught the attention Rohit Chopra, the new Democratic commissioner at the FTC. In July, he asked her to be a temporary adviser to the commission ahead of hearings this fall, the first since 1995, to help determine the scope of its antitrust pursuits in an evolving economy. With Khan's assistance, Chopra filed an official comment urging the FTC to "make rules and regulations" in order to better fulfill its mission.
"This is a moment in time that invites a movement," Khan tells the Times. "It's bigger than antitrust, bigger than Big Tech. It's about whether the laws serve democratic ends."
Slowly but surely, the Democratic Party appears to be getting the message.
Wait, before you go…
If you're reading this, you probably already know that non-profit, independent journalism is under threat worldwide. Independent news sites are overshadowed by larger heavily funded mainstream media that inundate us with hype and noise that barely scratch the surface. We believe that our readers deserve to know the full story. Truthdig writers bravely dig beneath the headlines to give you thought-provoking, investigative reporting and analysis that tells you what's really happening and who's rolling up their sleeves to do something about it.
Like you, we believe a well-informed public that doesn't have blind faith in the status quo can help change the world. Your contribution of as little as $5 monthly or $35 annually will make you a groundbreaking member and lays the foundation of our work.
Support Truthdig