Nov 7, 2012
Claire McCaskill Defeats Todd 'Legitimate Rape' Akin in Missouri Senate Race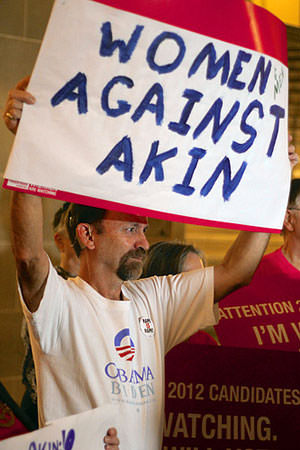 Claire McCaskill was considered one of the Democrats most likely to lose her seat in the 2012 election race. That is, until her Republican opponent Todd Akin opened his mouth during a television interview and the infamous words "legitimate rape" came out.
Akin's controversial comment in which he claimed women had the magical ability to repel rape sperm–but only if the rape was "legitimate"–turned what could have been an easy victory for him into another six-year term for McCaskill. The incumbent has been declared the winner of one of the most closely watched Senate races in the country.
Talking Points Memo:

When election season began, nobody imagined Claire McCaskill would still be a Senator in 2013. She was a deeply unpopular incumbent in an increasingly Republican state, and polled behind a number of viable challengers backed by a GOP desperate to depose her.

But as Republicans have drifted right over the past several years, Democrats have mastered the tactics of influencing GOP primaries, and none have pulled it off more deftly — or more humorously — than McCaskill did.

McCaskill drove conservative voters into Akin's camp, and threw the GOP primary his way, despite the well known concerns of the national Republican party.
Wait, before you go…
If you're reading this, you probably already know that non-profit, independent journalism is under threat worldwide. Independent news sites are overshadowed by larger heavily funded mainstream media that inundate us with hype and noise that barely scratch the surface.  We believe that our readers deserve to know the full story. Truthdig writers bravely dig beneath the headlines to give you thought-provoking, investigative reporting and analysis that tells you what's really happening and who's rolling up their sleeves to do something about it.
Like you, we believe a well-informed public that doesn't have blind faith in the status quo can help change the world. Your contribution of as little as $5 monthly or $35 annually will make you a groundbreaking member and lays the foundation of our work.
Support Truthdig