Jan 24, 2006
Bush Disingenuously Re-Brands Spying Program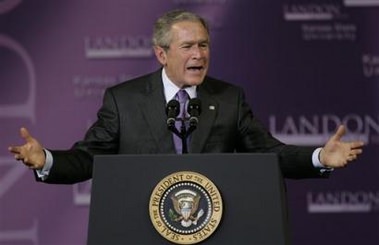 AP: MANHATTAN, Kan. – President Bush pushed back Monday at critics of his once-secret domestic spying effort, saying it should be termed a "terrorist surveillance program" and contending it has the backing of legal experts, key lawmakers and the Supreme Court.
Several members of Congress from both parties have questioned whether the warrantless snooping is legal. That is because it bypasses a special federal court that, by law, must authorize eavesdropping on Americans and because the president provided limited notification to only a few lawmakers. | story
OK, Mr. Bush, but what about the non-terrorists being swept up in your nets? Not that we're surprised by the new moniker; this is the guy who legalized an increase in air pollution and called it "Clear Skies," and labeled a tree-slashing program "Healthy Forests."
Wait, before you go…
If you're reading this, you probably already know that non-profit, independent journalism is under threat worldwide. Independent news sites are overshadowed by larger heavily funded mainstream media that inundate us with hype and noise that barely scratch the surface.  We believe that our readers deserve to know the full story. Truthdig writers bravely dig beneath the headlines to give you thought-provoking, investigative reporting and analysis that tells you what's really happening and who's rolling up their sleeves to do something about it.
Like you, we believe a well-informed public that doesn't have blind faith in the status quo can help change the world. Your contribution of as little as $5 monthly or $35 annually will make you a groundbreaking member and lays the foundation of our work.
Support Truthdig