Feb 8, 2009
Biden Cautious, Conciliatory in Message to Russia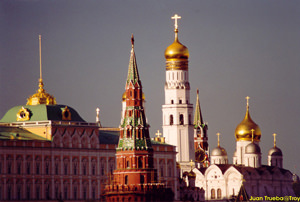 Will the Obama administration take a different tack than the Bush team did when it comes to relations with the Kremlin? It's hard to say at this stage, but Vice President Joe Biden has suggested that it's "time to press the reset button and to revisit the many areas where we can and should be working together with Russia." He made the comment Saturday in a speech at a security conference in Germany.
---
The New Tork Times:

The highly anticipated speech, seen as the first major outline of the new administration's relations with the world, came just days after Kyrgyzstan's president announced a decision to close a United States base there that is crucial to the war in Afghanistan, which President Obama has made his top foreign policy priority. That announcement was made in Moscow, and many American officials concluded that the Russians had pressured Kyrgyzstan as part of their campaign to reassert control over former Soviet republics.

Some Western diplomats had expected Mr. Biden to announce a strategic review of the planned missile defense system as a way to defuse tensions between Washington and Moscow. Although Mr. Biden did not go that far, he did leave room in both the speech — and an interview afterward — for unspecified changes in the plan put forward by the Bush administration.

"We will continue to develop missile defenses to counter a growing Iranian capability, provided the technology is proven and it is cost-effective," Mr. Biden said during the speech.
Wait, before you go…
If you're reading this, you probably already know that non-profit, independent journalism is under threat worldwide. Independent news sites are overshadowed by larger heavily funded mainstream media that inundate us with hype and noise that barely scratch the surface.  We believe that our readers deserve to know the full story. Truthdig writers bravely dig beneath the headlines to give you thought-provoking, investigative reporting and analysis that tells you what's really happening and who's rolling up their sleeves to do something about it.
Like you, we believe a well-informed public that doesn't have blind faith in the status quo can help change the world. Your contribution of as little as $5 monthly or $35 annually will make you a groundbreaking member and lays the foundation of our work.
Support Truthdig