Nov 6, 2015
Ben Carson Admits His Story About West Point Scholarship Isn't True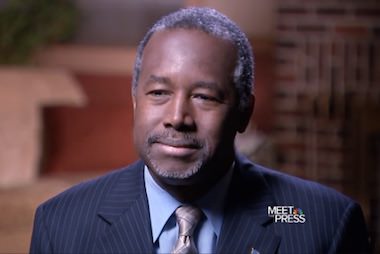 Ben Carson's campaign on Friday admitted that he did not tell the truth about applying for and accepting a scholarship to the U.S. Military Academy at West Point.
When confronted by POLITICO, Carson's campaign manager admitted, "He considered it but in the end did not seek admission." In his memoir, "Gifted Hands," Carson claimed that he had received a full scholarship to the academy, which has no record that he even applied. In fact, West Point does not offer scholarships because there is no tuition — when students enroll, they enlist in the U.S. Army.
From POLITICO:
The academy has occupied a central place in Carson's tale for years. According to a story told in Carson's book, "Gifted Hands," the then-17 year old was introduced in 1969 to Gen. William Westmoreland, who had just ended his command of U.S. forces in Vietnam, and the two dined together. That meeting, according to Carson's telling, was followed by a "full scholarship" to the military academy.

West Point, however, has no record of Carson applying, much less being extended admission.

"In 1969, those who would have completed the entire process would have received their acceptance letters from the Army Adjutant General," said Theresa Brinkerhoff, a spokeswoman for the academy. She said West Point has no records that indicate Carson even began the application process. "If he chose to pursue (the application process), then we would have records indicating such," she said.

When presented with these facts, Carson's campaign conceded the story was false.

"Dr. Carson was the top ROTC student in the City of Detroit," campaign manager Barry Bennett wrote in an email to POLITICO. "In that role he was invited to meet General Westmoreland. He believes it was at a banquet. He can't remember with specificity their brief conversation, but it centered around Dr. Carson's performance as ROTC City Executive Officer."

"He was introduced to folks from West Point by his ROTC Supervisors," Bennett added. "They told him they could help him get an appointment based on his grades and performance in ROTC. He considered it but in the end did not seek admission."

Carson would have needed to seek admission in order to receive an offer of free education from West Point. Also, according to West Point, there is no such thing as a "full scholarship" to the military academy, as Carson represented in his book.

An application to West Point begins with a nomination by a member of Congress or another prominent government or military official. After that, a rigorous vetting process begins. If offered admission, all costs are covered for all students; indeed there are no "full scholarships," per se.
Read more here.
Rival Republican candidate — and fellow crackpot — Donald Trump was among the first to seize upon the revelation. "WOW, one of the many lies by Ben Carson! Big story," Trump tweeted. It was just the latest in a string of attacks on Carson by the business mogul.
"@Robostop10: @realDonaldTrump This is not good. https://t.co/lvv0MRfgtH" WOW, one of many lies by Ben Carson! Big story.

— Donald J. Trump (@realDonaldTrump) November 6, 2015
–Posted by Roisin Davis
Wait, before you go…
If you're reading this, you probably already know that non-profit, independent journalism is under threat worldwide. Independent news sites are overshadowed by larger heavily funded mainstream media that inundate us with hype and noise that barely scratch the surface.  We believe that our readers deserve to know the full story. Truthdig writers bravely dig beneath the headlines to give you thought-provoking, investigative reporting and analysis that tells you what's really happening and who's rolling up their sleeves to do something about it.
Like you, we believe a well-informed public that doesn't have blind faith in the status quo can help change the world. Your contribution of as little as $5 monthly or $35 annually will make you a groundbreaking member and lays the foundation of our work.
Support Truthdig